Rahul should clear his stand on autonomy for Kashmir: Amit Shah
October 30, 2017 22:16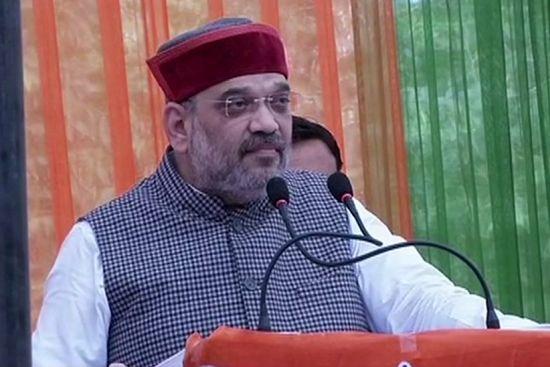 Bharatiya Janata Party chief Amit Shah today lashed out at the Congress alleging the party had "sullied" the image of 'Devbhumi' Himachal by turning it into a state where mafia thrived.
Addressing rallies in the poll-bound hill state, Shah latched on to former Union Home minister P Chidambaram's comments regarding more autonomy for Kashmir and demanded that Rahul Gandhi make his stance clear on the issue. He accused the Congress of speaking the language used in Pakistan.
"Himachal has become a land of the mafia with forest mafia, mining mafia, drug mafia, transfer mafia, liquor mafia and land mafia flourishing in the state," he alleged while addressing rallies at Banikhet in Dalhousie and Chwalra in Jwali.
Targeting Chief Minister Virbhadra Singh, Shah alleged that there was not even a single member in the Congress leader's family who was not facing corruption charges.
He said the people of Himachal Pradesh would end the corruption and 'mafia raj' in the state.
The BJP has already announced starting a Gudiya help line for reporting all cases of crime and would take prompt action on all complaints to establish the rule of law and instilling a feeling of safety and security among the people, Shah said.
It is unfortunate that when you go to other states, people bluntly say that Himachal Pradesh was number one in corruption while the crime rate and mafia are flourishing, Shah alleged.
This "stigma", he said can be removed only if the BJP under the leadership of Prime Minister Narendra Modi is voted to power in the state. Modi's resolve was to provide a clean and responsive government in Himachal and rid the people of the mafia, Shah said.
The BJP was on a winning spree and now it was Himachal's turn to become Congress free, he added.
The BJP chief expressed confidence that his party would win even more seats in the 2019 Lok Sabha polls and would also record a fourth successive victory in the upcoming Gujarat Assembly polls.
He hit back at Rahul Gandhi over his comments seeking accountability of the Gujarat government. Shah claimed that "accountability" was tradition of the BJP governments and asked the Congress vice president to give an account of the Manmohan Singh government.
He alleged that scams to the tune of Rs 12 lakh crore had surfaced during Manmohan Singh's rule and land, sky, sea or space, nothing was spared. -- PTI
« Back to LIVE
TOP STORIES