Rahul Gandhi's thinking in ICU: Modi's minister
October 30, 2017 20:07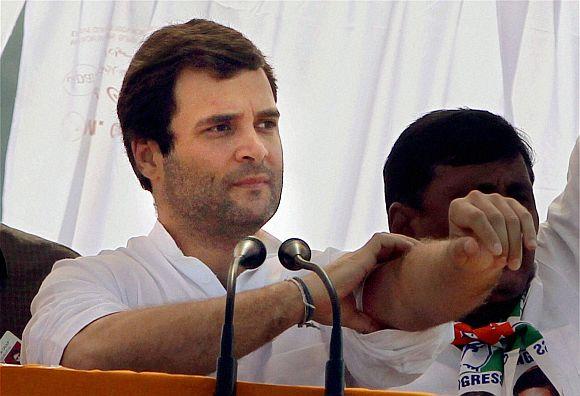 Union Minister Giriraj Singh today lashed out at Rahul Gandhi, saying the Congress vice president's "thinking" was in the intensive care unit as he had failed to see the people's approval of demonetisation in the BJP's victory in Uttar Pradesh.
Asked about Gandhi's recent remark on the economy being in the ICU, Singh retorted, "The reality is that Rahul Gandhi's thinking is in the ICU. The Uttar Pradesh (assembly) elections were held after demonetisation and those residing in the state put their stamp of approval in a way on demonetisation."
He said while the BJP would celebrate November 8 -- when the note ban was put into effect -- across the country, Gandhi and his party "will observe the death anniversary (of Rs 500 and Rs 1,000 currency notes)".
"Actually his thinking has gone to the ICU," he said while addressing an event in New Delhi.
The Congress vice president in a tweet last week said the economy was in the ICU, and added that "Dr Jaitley's" medicines were ineffective.
The micro, small and medium enterprises minister also took a swipe at "people who cannot see anything" while referring to the benefits of the Centre's MUDRA scheme, which provides small business units with access to institutional finance.
"According to data, the MUDRA scheme is providing employment to an average 10 crore Indians but many people can't see this. I wonder why they cannot see it. The power of the eyeglasses worn by some people has become such that they cannot see anything," Singh said, in an apparent reference to the Opposition.
The minister launched the MSME Samadhaan portal on the occasion, a Delayed Payment Monitoring System to enable micro and small enterprises to register their delayed payment grievances and for central PSUs involved in procurement to monitor the status of their payment.
MSE units and entrepreneurs can file cases regarding delayed payments and check the status of their payment online.
The move is expected to improve the cash flow of small businesses. -- PTI
« Back to LIVE
TOP STORIES