Passengers at Jammu airport greets CRPF men with resounding applause
October 09, 2017 14:36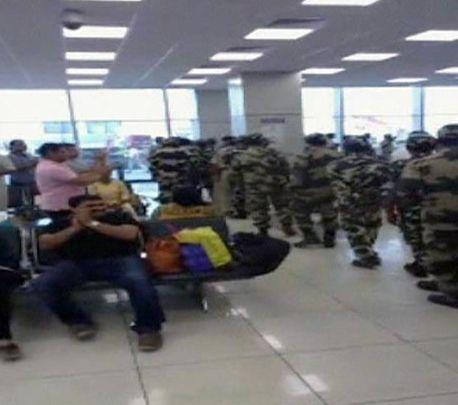 The Central Reserve Police Force (CRPF) personnel, in a rare and heart-rending event, were welcomed by a thunderous applause by the waiting crowd at the Jammu Airport.


The moment happened when the CRPF personnel entered the terminal building of the Jammu Airport on October 10 and were welcomed in an unexpected way by the people present in the area.


People spontaneously got up from their seats and began clapping for the jawans.


"The entire force is overwhelmed with the gesture shown by the passengers at the Jammu Airport. It motivates the force, which is committed to the service of the nation," DG CRPF Rajeev Rai Bhatnagar told ANI.


He added, "This is all because of the way our force has been doing its service and also the sacrifices we have made."


The commanding officer of the 166 battallion, Ashish Kumar Jha, PRO CRPF, Jammu Sector, which oversees the transiting soldiers at Jammu, said that the soldiers want only such appreciation from the nation as this motivates and boosts the morale of the soldiers.


"We have four chartered flights in a week which takes our jawans from Jammu to Srinagar. It was during one such flight yesterday that while the CRPF jawans came to take their boarding passes that the people sitting in the waiting area started clapping for the jawans, many got up from their seats."


"This was a gesture which came naturally and overwhelmed us. We want only this from the nation as such things always boost our morale and motivate us" he added.
« Back to LIVE
TOP STORIES