90 lakh truckers begin India-wide chakka jam against GST
October 09, 2017 09:27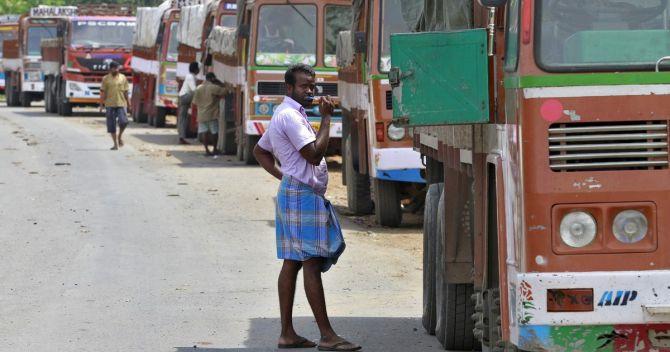 Over 90 lakh truckers will participate in a two-day nation-wide Chakka Jam from Monday to protest issues ranging from disruptive impact of the Goods and Services Tax to the extortion at RTO barriers in states.
Calling for a 36-hour nationwide strike starting 8 am today, truck owners and operators are protesting "disruptive policies" under the GST and are demanding the inclusion of diesel in the new indirect tax GST ambit.
"Transporters have decided to protest against the callous and indifferent attitude of government officials, GST, diesel price hike and corruption on roads by observing a token 'chakka jam' (strike) on October 9 and 10," AIMTC president SK Mittal told reporters ahead of the strike.
AIMTC, the top body of transporters, represents around 93 lakh truckers and around 50 lakhs bus and tourist operators across India.
Supplies of commodities including food are likely to be affected due to the token strike.
Mittal said that "contra laws" in the present GST regime has lead to coercive registration and unnecessary compliance by truckers and transporters. The sale of used business attracts GST, which leads to double taxation by the government, he added.
« Back to LIVE
TOP STORIES