I need freedom to meet the person I love: Hadiya
November 29, 2017 10:24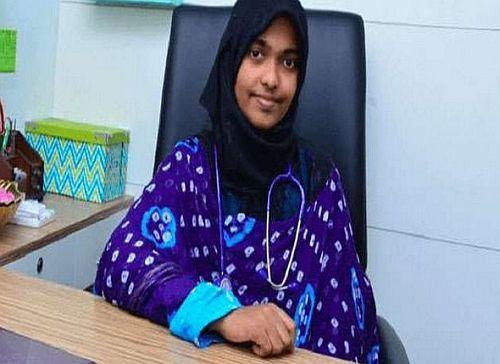 Hadiya, a woman from Kerala, at the centre of an alleged love-jihad case after converting to Islam, told NDTV today that she needed freedom.

"I need freedom. For six months I have put up with people I hate. My own parents said I am mentally unstable.

"I asked the court for freedom. I wanted to meet my husband. I need freedom to meet the person I love. I don't know if this college will be another prison. I don't have a phone. I cannot contact anyone," she told NDTV.


Hadiya arrived on Tuesday evening at the Sivaraj Homeopathy Medical College to continue studies as directed by the Supreme Court. She was brought there amid tight security by the Kerala police from Coimbatore.


College Principal G Kannan said she would continue her course under her Hindu name Akhila Ashokan. The 25-year old will be undergoing a 11-month internship at the institution as directed by the apex court on Monday.


The court, after the proceedings, had freed Hadiya from her parents custody and asked her to pursue her studies. It did not accede to her plea to be allowed to go with her husband. Hadiya was brought to Coimbatore by a flight and then by road.

Wearing a yellow scarf, she was whisked away to the managing directors office soon after arrival at the college campus in Salem, a town in Western Tamil Nadu.

Later, emerging from the office after about half-an-hour later, Hadiya said she has sought permission to meet her husband. I think they will allow, she had told reporters.

Replying to a question, she said security was not necessary for her. But at least for two days security will be there, she added.

Principal Kannan said her admission process has commenced and she will be attending classes from Wednesday.

A Supreme Court bench headed by Chief Justice Dipak Misra had given the direction on Monday after interacting with Hadiya.

Kannan said no special treatment will be accorded to Hadiya at the hostel.

The apex court has appointed the dean of the college as Hadiyas guardian and granted him liberty to approach it in case of any problem. She was earlier staying at her parental home in Kochi for several weeks.

« Back to LIVE
TOP STORIES