UPDATE: Battle of the barbs: After 'chai-wala', now comes 'bar wala'
November 22, 2017 08:36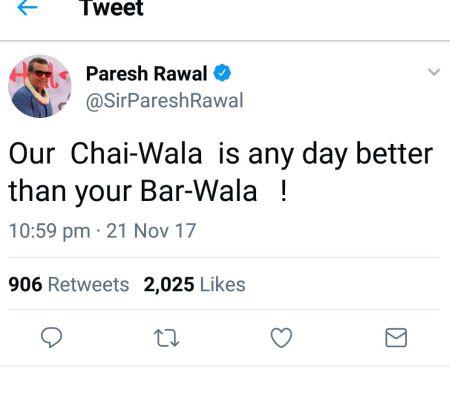 The Congress's chai-wala meme has started a battle of the barbs between the two national parties.
On Tuesday night, Congress faced heavy flak when the official handle of the Youth Congress's online magazine, Yuva Desh, shared a meme that hit at PM Modi's 'chaiwala' beginnings.
Top Congress leaders immediately apologised by the gaffe of the online magazine and called it out for being improper and crude. The tweet was deleted.
However, the BJP then responded with a crass tweet of its own.
Parliamentarian Paresh Rawal took to Twitter to write: "Our Chai-wala is any day better than your Bar-wala".
This tweet by Rawal was also deleted and he apologised for it in a later tweet.
The Congress has called out the BJP stating that it hypocritical of the ruling party to make such a ruckus about a tweet when they themselves spread fake news and mock others through trolls.
Image: A snapshot of the tweet posted by Paresh Rawal, which he deleted soon after and later apologised for it.
« Back to LIVE
TOP STORIES