Rahul sat in temple like he was offering Namaaz: Yogi
November 22, 2017 00:25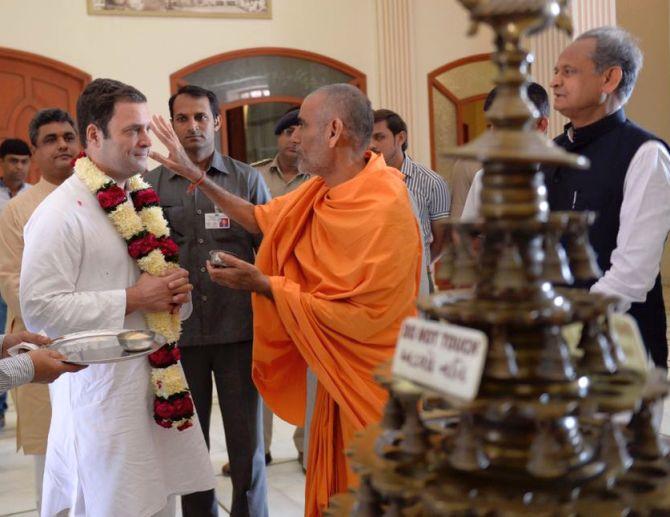 After BJP's repeated jibes at Rahul Gandhi over his visits to temples in poll-bound Gujarat, Uttar Pradesh Chief Minister Yogi Adityanath shot a barb at the Congress vice president, saying he does not even know how to
sit in a temple.
"I am saddened and amused at the same time when he (Rahul Gandhi) goes to a temple...The poor fellow does not even know how to sit in a temple," he said.
The priest-politician claimed when Gandhi visited Kashi Vishwanath temple in Varanasi recently, he sat in a posture as if he were to offer Namaaz.
"The priest then told him it is a temple and not a mosque. If you have to sit in a temple, sit in the 'paalthi' (cross-legged) posture," Adityanath said at an event.
Adityanath said Rahul Gandhi was wandering from one temple to another in Gujarat, and he was happy that the Congress leader's mind will get "purified" in the process.
The Uttar Pradesh chief minister said he was saddened that the erstwhile Congress government, of which his mother Sonia Gandhi was the "super PM" had sworn an affidavit in the Supreme Court saying that Lord Ram and Lord Krishna were "kalpanik" (imaginary characters).
"If they were imaginary, what is Rahul Gandhi doing by visiting temples?" he asked.
When asked about the imminent elevation of Rahul Gandhi as Congress president, Adityanath took another dig at him, saying it would help fulfil Mahatma Gandhi's dream of a "Congress free" India. -- PTI
« Back to LIVE