'Pakistan is a well of death. Thank you Sushma ji for supporting me'
May 25, 2017 17:19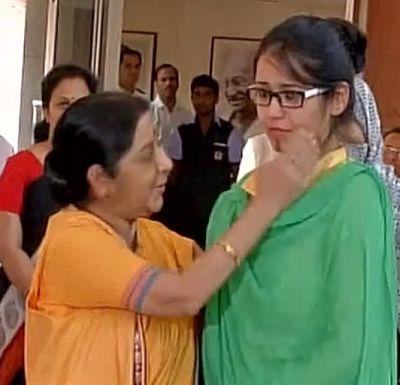 Uzma Ahmad, a young Indian woman, who said she was forced to marry a Pakistani man at gun point, on Thursday after returning home via the Wagah Border extended her thanks to External Affairs Minister Sushma Swaraj.
"I would like to thank everyone who helped me. Thank you Sushmaji for supporting me," said the emotional woman who couldn't hold back her tears as she narrated her ordeal.
"Pakistan is a death trap. Going there isn't easy and coming out isn't", she said, adding, "Pakistan is a 'well of death'. Even those who go there after arrange marriage are crying."
"Had I been there for a few more days, I would probably not be alive. I was tortured, threatened, was told my daughter would be harmed."
After the woman addressed the media, Sushma Swaraj said that she was relieved that Uzma was able to cross over safely today.
"When Uzma crossed border, I breathed a sigh of relief," said the Union minister.
« Back to LIVE
TOP STORIES