After meeting Modi, Google's Pichai says excited for GST rollout
June 26, 2017 11:35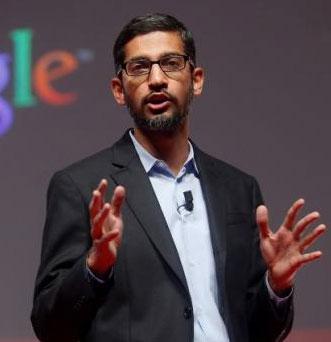 After meeting Prime Minister Narendra Modi at the CEOs' Round Table in the United States on Sunday, Google's Chief Executive Officer Sundar Pichai said everyone is excited to invest in India and so is he.
Speaking about the discussion Modi held with top US business leaders, Pichai said, "It (the discussion) was very good. I think it was a discussion across many countries and I think the prime minister was looking for insights into how India can attract more foreign investment and I think there were many many good ideas to discuss. But I think everyone is excited to invest more in India and I am excited we can all do it together."
Pichai also said that he is looking forward to the rollout of the Goods and Services Tax, slated for Friday midnight, and called it a testimony to the fact that reforms can be pushed through. "We are all looking forward to the July 1 rollout. I know it's been a very difficult thing to do. So, I am excited to see it happen. It shows that you can achieve reform by pushing hard for it and I hope its just the beginning."
GST will be rolled out on July 1, during a special midnight session of Parliament that will be held on the intervening night of June 30-July 1.
« Back to LIVE
TOP STORIES