Doklam stand-off: No room for negotiations, says China's mouthpiece
July 16, 2017 11:26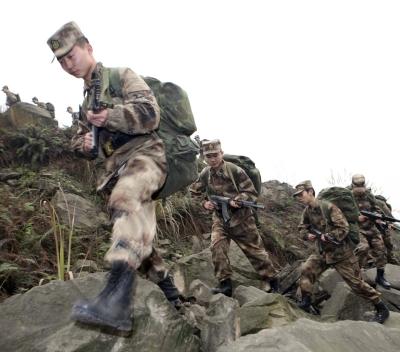 Days after the ministry of external affairs said that diplomatic channels were being used to defuse the stand-off with China in Doklam in the Sikkim region, Chinese state media indicated on Saturday that there was no room for negotiations and withdrawal of Indian troops was the pre-condition for any diplomatic solution.
In a commentary, Chinas official press agency, Xinhua, which works directly under the state council, reiterated that the border line was the bottom line for Beijing. This is not the first time this particular phrase has been used by Chinas state media in articles, opinions and interviews with experts. It was used by Xinhua and Communist Party of China-run Peoples Daily in editorials last week.
India has repeatedly ignored Chinas call for pulling its border-crossing troops from Doklam area back to its own territory. However, turning a deaf ear to China will but worsen the month-long stand-off and put itself further into embarrassment, said the article.
India should not regard the existing situation as the same as or even similar to the previous two stand-offs in 2013 and 2014 near Ladakh, a disputed area between China, Pakistan and India in southeastern Kashmir. Diplomatic efforts led the troops frictions there to a well-arranged end. But this time it is a totally different case, it said.
The current stand-off between Indian and Chinese troops is considered the longest in almost three decades. It began on June 18, after Beijing said New Delhi had violated border agreements after Indian troops allegedly entered Doklam and stopped the Chinese Army from constructing a road. India maintained that the boundary is yet to be settled and asked China to desist from changing the status quo, referring to the road construction.
According to Xinhua, the June 18 incident marked the first time India crossed the only determined border between the two Asian countries.
Many arguments and protests from China have failed to bring India back to reason. India has to know illegal stay of its troops in Doklam will by no means force a fait accompli there, and that it has to change its mind before things go even worse, said Xinhua.
The article, however, took note of Foreign Secretary S Jaishankars recent remarks as a positive sign. As an old Chinese saying goes, peace is most precious. It has been noticed that Indian Foreign Secretary Subrahmanyam Jaishankar recently has made positive remarks in Singapore, saying that India and China should not let differences become disputes. What China would like to see more are corresponding actions taken by India, it said.
« Back to LIVE
TOP STORIES