India's gold demand at 13-year low
January 30, 2017 12:18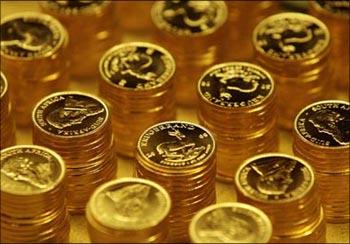 India's gold demand has slumped to its lowest in 13 years due to various measures announced by the government to discourage purchases, reports Dilip Kumar Jha in Business Standard.
'GFMS, a precious metals consultancy, estimated India's gold demand at 580 tonnes in 2016, a decline of 34 per cent from the previous year. This level of demand has not been seen in India since 2003,' he writes.
The World Gold Council (WGC), however, maintains gold demand in India in 2016 at 650-750 tonnes. The WGC will release its final gold demand figure early next month.
The GFMS survey estimates India's gold imports at 498 tonnes in 2016, also a level not seen since 2003.
"India's average monthly gold import demand for domestic consumption was approximately 60 tonnes in 2015. However, last year during February-September average monthly imports stood at just 13 tonnes as compared to a monthly average of 58 tonnes in the October-December quarter of 2016," the GFMS survey noted.
"There are some interesting short-run dynamics too. Gold demand is spurred by inflation, rises with a good monsoon, and is dampened by higher import taxes and other restrictive measures. By 2020, we expect Indian gold demand to average 850-950 tonnes,' said Somasundaram PR, managing director, World Gold Council (India).
India's gold demand was hampered by the government's decision to introduce a 1 per cent excise duty on jewellery in the Budget in February 2016. The levy was opposed by jewellers, who struck work for 42 days from March 1.
The requirement of quoting the income tax permanent account number during purchases of over Rs 200,000, a liquidity crisis in rural regions following three years of weak monsoon rainfall, and the government's scheme on disclosing unaccounted wealth were other reasons that kept buyers away from gold.
"Production at domestic mines constitutes one-three tonnes out of India's estimated annual consumption of 1,000 tonnes of gold. With the customs duty being 10 per cent, unofficial imports have grown. We have been trying to convince the government to bring down the customs duty to 5-6 per cent,' said Prithviraj Kothari, managing director, RiddiSiddhi Bullion.
During February-September 2016, prevailing gold prices in India slipped to a discount to the landed cost of imports as scrap supply increased from households and the jewellery trade destocked.
--
Dilip Kumar Jha, Business Standard
« Back to LIVE
TOP STORIES