Amid SP feud, Amar Singh to leave for London
January 15, 2017 18:35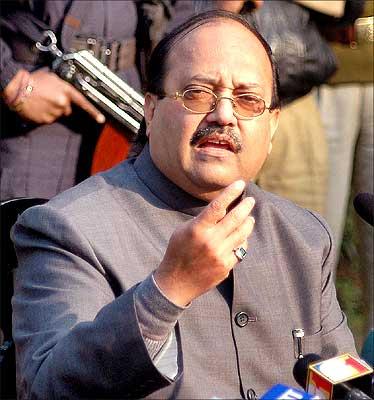 Samajwadi Party leader Amar Singh, who has been blamed for the conflict between Uttar Pradesh Chief Minister Akhilesh Yadav and his father Mulayam Singh Yadav, on Sunday said that he would be returning to London for his treatment.
"I was undergoing treatment in London, but was summoned due to the developments here. Now, I will be going back to complete my treatment," Singh said.
He further said that he would be returning towards the end of March.
Asserting that he is willing to resign to keep Mulayam Singh Yadav's family united, the Samajwadi Party leader had earlier rubbished allegations that he was responsible for the ongoing political tussle in the party.
Attempting a truce between Akhilesh and his father Mulayam, he said, "I am folding my hands. What do you want?"
Reaching out to Akhilesh, he said, "I'm folding my hands. What else do you want?""If he is the son of Mulayam Singh ji then he is also like my son. Mulayam Singh is his biological father and since the age of four, he has been living with Shivpal Yadav ji."
"For me he is not the Chief Minister of Uttar Pradesh, not a big leader of the state ..he is the son of my big brother Mulayam Singh ji," he added.
Sources have also confirmed that Singh and Jaya Prada will not participate in any of the election campaigns in the wake of split within the Samajwadi Party.
« Back to LIVE
TOP STORIES