It's not about where he's from, we're all humans, says Kansas shooting hero
February 24, 2017 11:33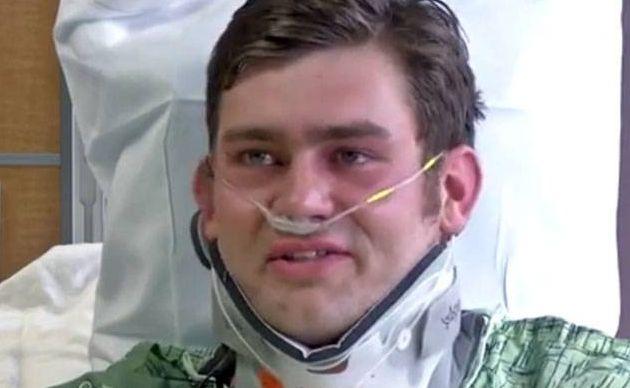 Ian Grillot has a new 'best friend'.

Recuperating in hospital after he was shot at while intervening in the racially motivated hate attack on Indians Srinivas Kuchibhotla and Alok Madasani, Grillot said he wasn't really thinking when he tried to save the two Indians.

The attack left Srinivas Kuchibhotla dead and his colleague Madasani injured. Grillot, 24, is in a stable condition in hospital.

In a video released by the University of Kansas Health System, Grillot can be heard narrating the incident. When the shooting began, Grillot ducked behind a table and counted off the shots fired by the assailant - Adam Purinton - and when he thought Purinton had run out of bullets, he lunged at the man.

However, Purinton still had one round in his gun magazine and managed to shoot Grillot through the arm and chest. Recounting that, Grillot said, "I guess I miscounted."

Talking about the attack and what motivated him to put his life in danger, Grillot, known locally to defuse tensions, said he wasn't really thinking when he tried to save the two Indians. "It was just, it wasn't right, and I didn't want the gentleman to go after somebody else."

Grillot also said that though it had been a harrowing experience, he was thrilled to see Madasani standing in his doorway at the hospital. "It put the biggest smile on my face," Grillot said in the video. "I'm just very grateful that one of the gentlemen is fine and alive. It's terrible what happened to his friend. But I think he was watching over us last night," he said with tears in his eyes.
He said he considered the Indian his new "best friend".

"I was just doing what anyone should have done," Grillot said. "It's not about where he's from, or ethnicity. We're all humans."

Adam Purinton, who was arrested soon after the attack has been charged with murder for an attack that has been described as racially motivated.


Image: Video grab of Ian Grillot in hospital.

« Back to LIVE
TOP STORIES