To protest Jadhav's ill-treatment, BJP neta sends footwear to Pak high commission
December 30, 2017 08:57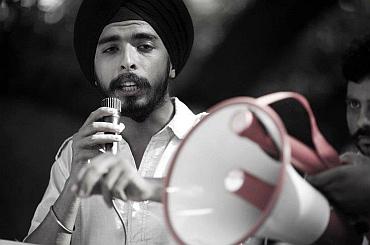 A Delhi BJP leader today ordered footwear online and gave the address of the Pakistan high commission here for its delivery to protest against the ill-treatment meted out to the mother and the wife of death row convict Kulbhushan Jadhav, who is lodged in a Pakistani jail.
The two women visited Pakistan recently and were forced to remove their mangalsutra, bindi, bangles and footwear by the Pakistani authorities before they were allowed to meet Jadhav through a glass screen.
Delhi BJP spokesperson Tajinder Pal Singh Bagga bought the footwear online and gave the address of the Pakistan High Commission for its delivery.
"Pakistan wants our slippers. Let's give them slippers. I have ordered slippers and sent to Pakistan High Commission," he tweeted.
He also launched an online campaign requesting the "nationalists" to send slippers to Pakistan.
"Over a hundred people sent footwear to Pakistan High Commission within a few hours after I did it," he claimed.
Jadhav's mother and wife met him on Monday inside the Pakistan Foreign Office building in Islamabad under unusual circumstances -- he was separated from the two women by a glass screen, and they conversed through an intercom.
In identical statements in both houses of Parliament, External Affairs Minister Sushma Swaraj said there was "serious and gross violation of human rights of the family members of Jadhav", who is on death row in Pakistan for alleged spying.
She flayed Pakistan for presenting the two women as "widows" during the meeting, and accused Islamabad of turning an emotional moment into "an instrument to further its propaganda."
-- PTI
« Back to LIVE
TOP STORIES