'Shame on you': Pawar attacks PM for remarks against Manmohan
December 12, 2017 20:54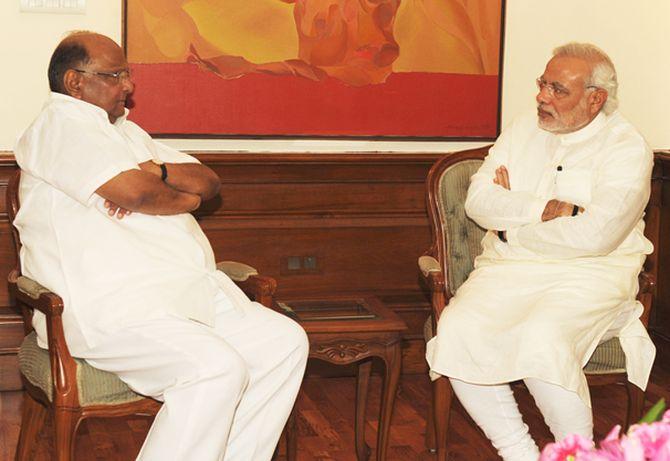 Prime Minister Narendra Modi's allegation against his predecessor Manmohan Singh over the Gujarat polls drew more condemnation today with NCP chief Sharad Pawar telling him "shame on you" and Congress president
-elect Rahul Gandhi calling it unacceptable.
Key BJP ally Shiv Sena also launched a sharp attack on Modi, saying that dragging Pakistan into Gujarat election campaign was an "impious" way of trying to win the polls.
The prime minister at a poll rally in Gujarat on Sunday sought to link a dinner meeting hosted by suspended Congress leader Mani Shankar Aiyar for Pakistan dignitaries and attended by Manmohan Singh among others with the ongoing assembly polls and a conspiracy against the BJP.
Modi had insinuated that his predecessor had colluded with Pakistan for BJP's defeat at the polls. The former premier responded by saying Modi was setting a "dangerous precedent" and asked him to apologise to the nation, a demand rejected by the union government.
Pawar criticised Modi for "deliberately" misconstruing the dinner meeting at Mani Shankar Aiyar's residence on December 6 and presenting it as a conspiracy by Pakistan to interfere in the Gujarat polls. The meeting took place a day before Aiyar's "neech aadmi"(lowly person) jibe against Modi that led to his suspension from the party.
"Shame on you, Prime Minister for making such allegations. You have made the allegations against this country's former prime minister and former Defence officials," Pawar, a former defence minister, said.
"Modi's government has not solved issues of farmers and other issues the country faces, but he is bringing the Pakistan angle as a diversionary tactic for Gujarat elections," Pawar said at a public rally -- 'Halla Bol' --
organised by the Congress and the NCP in Nagpur on issues relating to agrarian crisis.
Modi has demeaned the office of the prime minister, Pawar alleged.
Rahul Gandhi hit out at the prime minister for his remarks against Manmohan Singh while addressing a press conference in Ahmedabad on the final day of campaigning for the assembly polls.
"What Modiji has said about former PM Manmohan Singh is not acceptable," he said.
In an editorial in its mouthpiece 'Saamana', the Shiv Sena said a prime minister is supposed to take action and not level allegations.
"Prime Minister Modi has levelled a serious charge that Pakistan is interfering in Gujarat polls. We can understand the worries of Modi but a PM is supposed to take action and not level allegations.
"Gujarat has become even more important than Kashmir. Until yesterday, Pakistan was interfering in Kashmir and China was interfering in Leh, Ladakh and Arunachal Pradesh," it said.
Nowadays, in all elections, either Pakistan or fugitive underworld don Dawood Ibrahim is brought at the forefront, the Sena quipped.
"When sand below the feet starts moving, Pakistan and Dawood chanting begins. It is happening today as well. This is an impious way," it said.
The Sena further said that even in Bihar polls, BJP's national president had brought in Pakistan. Despite he saying that crackers will be burst in Pakistan if Nitish Kumar wins, the latter decimated the BJP, it said. -- PTI
« Back to LIVE
TOP STORIES