Is it wrong to go to a temple? I pray for Gujarat: Rahul in A'bad
December 12, 2017 14:18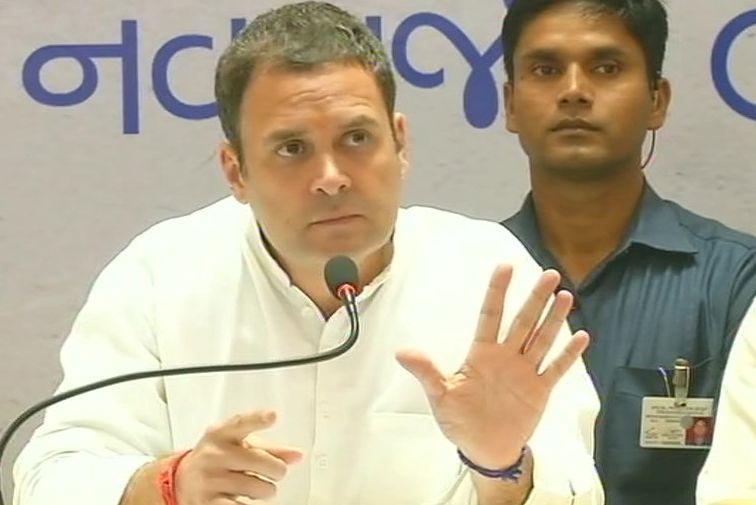 Congress President-elect Rahul Gandhi addresses a press conference in Ahmedabad, Gujarat.


"In the last 22 years Modi-Ji and Rupani-ji (Gujarat CM Vijay Rupani) have initiated only one-sided development in Ahmedabad, the one only for 5-10 people. Not everyone has been given their rights. Whenever I went to a temple I just prayed for a 'Sunehra Bhavishya' for the people of Gujarat, a better development here. Is it wrong to go to a temple?

"Jahan mauka milta hai vahan mandir jaata hoon, Kedarnath bhi gaya tha, Vo kya Gujarat mein hai? Whenever I get an opportunity I go to a temple. I had visited Kedarnath too. Is that in Gujarat?" asks Rahul Gandhi on people linking his temple visits to the elections.


Unfazed by the criticism of the BJP over his temple visits in Gujarat, Gandhi on Tuesday visited the Jagannath Temple in Ahmedabad and offered prayers.


According to the temple's priest Dilip Das, Rahul performed pooja (obeisance) as per the traditional rituals of the temple and sought Lord Jagannath's blessings.


Former Rajasthan Chief Minister Ashok Gehlot also accompanied Rahul.

While campaigning for the Congress party in the Gujarat assembly elections, Rahul has been visiting various temples. The BJP has been targeting Rahul over his temple visits and terms it as political move to woo Hindu votes.


The high-decibel campaigning for the second and final phase of the Gujarat assembly elections will be concluded this evening.


During the last day of the campaigning, Prime Minister Narendra Modi travelled from Sabarmati riverfront in Ahmedabad to Dharoi Dam via a seaplane. Prime Minister Modi tweeted that his government is making efforts for harnessing waterways.

« Back to LIVE
TOP STORIES