IB flags concerns of 'lone wolf' attacks during Gujarat poll campaign
December 12, 2017 01:02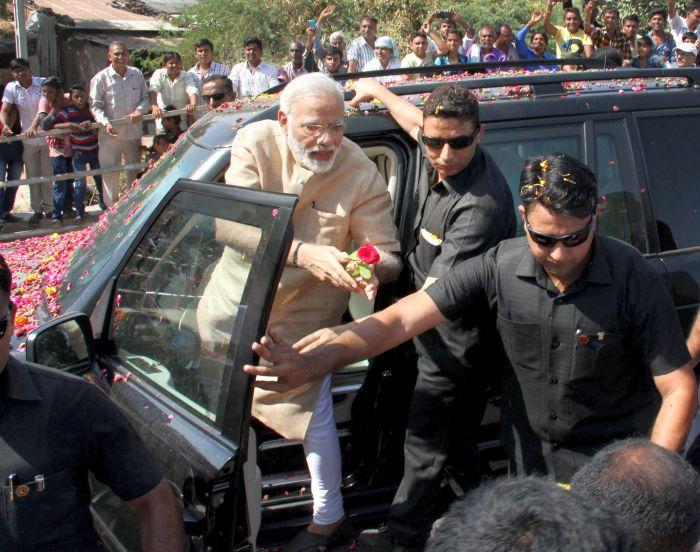 Intelligence agencies have gathered information that a "lone wolf" may try to target roadshows of "big political leaders" during the campaigning for the assembly elections in Gujarat, officials said.
Based on intelligence inputs and interrogation reports of two arrested suspected terrorists, the agencies have alerted the Gujarat Police that a "lone wolf" may try to carry out attacks on roadshows of top political leaders and there is a need to take maximum precaution, a senior government official said
However, it is not immediately known if the Ahmedabad Police's decision to deny permission to the roadshows of Congress vice president Rahul Gandhi and the BJP, to be held on Tuesday, was related to the intelligence inputs.
Ahmedabad Police Commissioner A K Singh cited traffic congestion and some main markets and old city areas, which are communally sensitive and have narrow roads, falling on the routes of the roadshows, as the reasons for denying the permission to the roadshows.
A "lone wolf" is a terrorist who carry out attacks alone without having any direct contact with any organisation.
One Uroz Khan, arrested in Madhya Pradesh on November 6, had reportedly told police that he promised to supply arms and explosives to two suspected ISIS operatives for allegedly carrying out "lone wolf" attacks on a Jewish synagogue and during election rallies in Gujarat, the official said.
ISIS suspect Ubaid Mirza, who was in the custody of the National Investigation Agency, also reportedly told the agency that ISIS style "loan wolf" attack was planned on roadshow and rallies in Gujarat. -- PTI
« Back to LIVE
TOP STORIES