Hardik Patel met Robert Vadra, alleges disgruntled aide
December 12, 2017 22:05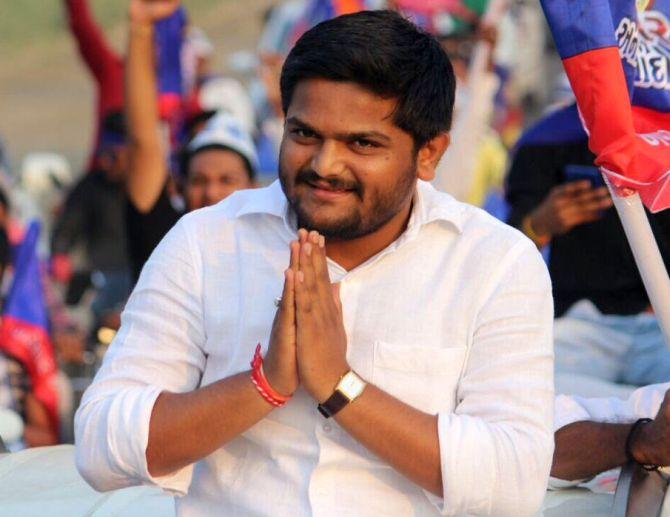 In a fresh attack on Hardik Patel on the last day of campaigning for the second phase of Gujarat assembly polls, his disgruntled aide Dinesh Bambhania claimed today that the Patidar quota agitation leader had met Robert
Vadra, Congress president-elect Rahul Gandhi's brother-in-law.
Bambhania also accused Patel of "misleading" the core members of the Patidar Anamat Andolan Samiti, which spearheaded the quota agitation, about his "secret meeting" with Gandhi at a five-star hotel in Ahmedabad in October.
Patel should explain what transpired at these meetings with Gandhi and Vadra, Bambhania said.
"Despite being asked by PAAS leaders several times, Hardik never revealed what transpired in that meeting with Rahul Gandhi. Hardik even met Robert Vadra in Delhi. Yet, there is no explanation about it. Was there any secret deal with Vadra?" Bambhania told reporters.
Both the Congress and Patel had denied that he had a meeting with Gandhi at a five-star hotel near the city airport in October.
On December 8, a day before the first phase of polling in Gujarat, Bambhania alleged that though the Congress's Gujarat unit had not clarified how it would give reservations to Patidars, Patel was supporting the party as a result of some "fixing".
Questioning Patel's open support to the Congress when the party's manifesto was not clear about how it would give reservations to Patidars under the OBC quota, Bambhania today asked, "Under what secret understanding Hardik is appealing to people to vote for the Congress?"
"At his poll rallies, Hardik Patel openly says he does not like the Congress, but he asks people to vote for it. So what are the reasons that compel him to say so?" he asked.
Ninety-three constituencies in 14 districts of North and Central Gujarat will go to polls on December 14 in the second phase of elections. -- PTI
« Back to LIVE
TOP STORIES