Don't pay power bills unless govt deposits loan waiver amount: Pawar to farmers
December 12, 2017 18:48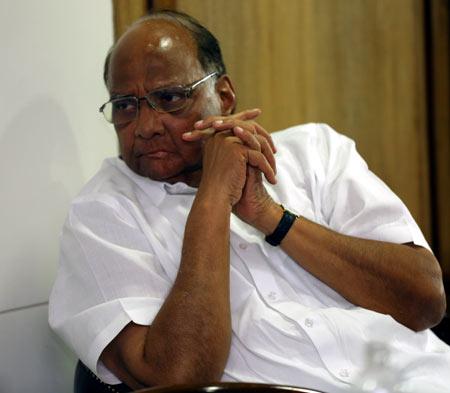 Nationalist Congress Party chief Sharad Pawar today asked farmers in Maharashtra not to pay outstanding loan or dues like electricity bills to the government unless it deposits the "much-touted" loan waiver amount into their bank accounts.
Speaking at a public rally -- 'Halla Bol' -- organised by the Congress and the NCP in Nagpur on the issues of agrarian crisis, Pawar said if the government is "of no use to people", then people should not cooperate with it.
"Unless the loan waiver amount is deposited into the bank accounts of farmers, I appeal to the farming community not to pay any dues or even electricity bills to the state government," the former Union agriculture minister, who turned 77 today, said.
The Maharashtra government had announced a mega agri loan waiver of Rs 34,022 crore on June 24 after a state-wide agitation by farmers. On July 9, Chief Minister Devendra Fadnavis said around 36 lakh farmers in the state will have their entire debt waived.
Pawar asked Fadnavis to "stay away" from "blackmail politics".
"The Maharashtra chief minister uses the language of blackmailing the opposition. We respect the mandate of the people who chose you to govern," Pawar asserted.
"But if he thinks blackmailing is a part of people's mandate to his government, then he should remember that people can oust him from power."
Speaking to reporters in Nagpur ahead of the winter session of state legislature, which began on Monday, Fadnavis had said, "I have enough evidence against the leaders of opposition and I will disclose it at the right time."
Pawar also criticised Prime Minister Narendra Modi for "deliberately" misconstruing a meeting at the residence of suspended Congress leader Mani Shankar Aiyar on December 6 and presenting it as a conspiracy by Pakistan to interfere in the Gujarat polls.
"Shame on you Prime Minister for making such allegations! You have made the allegations against this country's former prime minister (Manmohan Singh) and former defence officials," Pawar, a former defence minister himself, said. -- PTI
« Back to LIVE
TOP STORIES