Aboard seaplane PM returns to Sabarmati
December 12, 2017 15:45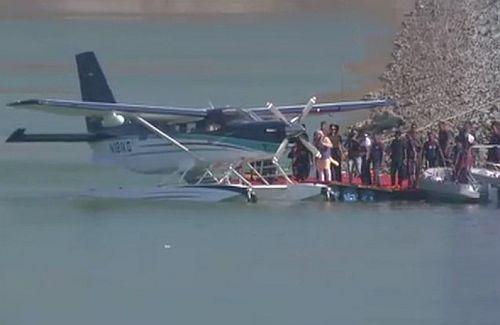 PM Narendra Modi leaves from Dharoi Dam and reaches Sabarmati.
The Prime Minister flew from the Sabarmati riverfront in Ahmedabad to Dharoi Dam via a seaplane, which is the first-ever flight by such a craft in the country, today.
Prime Minister Modi in a rally on Monday had said, "Tomorrow for the first time in the history of the country a sea-plane will land on the Sabarmati River. I will go to Ambaji in the sea-plane after landing in Dharoi dam and come back."
Gujarat Chief Minister Vijay Rupani had said that this is for the first time in the history of the country that a sea-plane will land on a water body.
Yesterday, the Ahmedabad Police had turned down the request of the Bharatiya Janata Party (BJP) and the Congress from conducting roadshows by Prime Minister Modi and grand old party vice-president Rahul Gandhi.
The permission was denied by the Ahmedabad administration citing security, law and order reasons and to avoid public inconvenience.
Remaining parts of Gujarat, including Ahmedabad, are slated to go for polls on December 14.
The first phase of polling took place on December 9 and recorded a voter turnout of 68 percent.
Counting of votes will take place on December 18.
The Congress is eyeing to dethrone the BJP government in the state.
The last Congress government in Gujarat was led by Chhabildas Mehta from February 17, 1994 to March 13, 1995. -- ANI
« Back to LIVE
TOP STORIES