Rashtrabhakti drove us to help people of all faiths: PM
December 04, 2017 09:05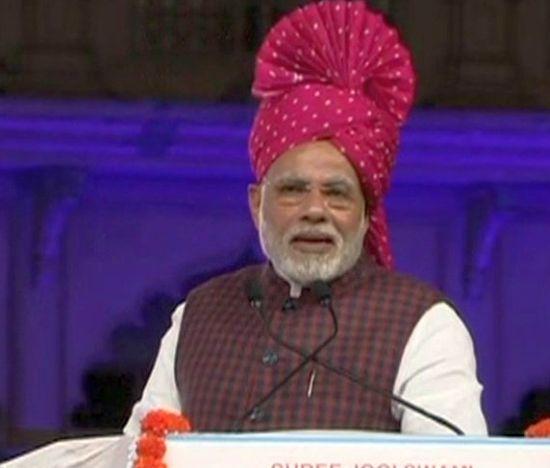 Prime Minister Narendra Modi on Sunday said "rashtrabhakti" motivated him and his government to help people of various faiths, including Christians, and dubbed as "fatwa" a letter issued by Gandhinagar archbishop.
The prime minister was referring to the letter issued last month by Thomas Macwan, archbishop of the Archdiocese of Gandhinagar, in which he had appealed to Christians to pray to save the country from "nationalist forces".
"I was shocked to see a religious person releasing a 'fatwa' (diktat) saying uproot the nationalist forces. It is 'Rashtrabhakti' (nationalism) that guides us to help every Indian in any part of the world," Modi said.
The prime minister was speaking at a gathering after inaugurating a hospital on the campus of Shree Swaminarayan Gurukul Vishwavidya Pratisthanam.
He said it was a "matter of concern" if some people are opposing such values.
The priest had also said that "democratic fabric" of the country was at stake amidst growing "sense of insecurity" among minorities, which was viewed as a jibe at the ruling BJP.
Modi said his government had saved and rescued people of different faiths irrespective of their religion.
He also listed several examples wherein the central government had brought back Christian missionaries as well as nurses stranded in conflict zones across the world.
"Along with Indians, we have rescued citizens of almost 40 countries from Yemen, as they were stranded there due to war. We did not see their religion or language they speak. It was our nationalism and humanitarian values which guided us," the prime minister said.
Modi said he was raising the issue of nationalism because some people have challenged it.
"Our nurses from Kerala, mostly Christians, were stranded in Iraq. They were in the custody of terrorists. Can the prime minister or any citizen of India sleep in such situation, when our daughters are in custody of terrorists?" he asked.
In 2014, a total of 46 Indian nurses, who were held captive by the Islamic State militants in Iraq for about a month, were evacuated after the successful intervention by the Union government.
The prime minister also recalled how his government used "all resources" to bring back Keralite priest Tom Uzhunnalil who was freed after being kept in captivity suspectedly by the ISIS for 18 months in strife-torn Yemen.
"Father Tom (Uzhunnalil), also a Keralite, was abducted by terrorists in Yemen last year. He went their to spread the message of Jesus Christ. Again, we have employed all our resources to bring him back, as he is the son of this country. We successfully brought him back a few months back," the prime minister said.
He also gave the example of Father Alexis Prem Kumar who was rescued from the Taliban captivity in Afghanistan.
"Another Christian, Judith D'Souza of West Bengal, was kidnapped in Afghanistan. We applied every trick in the book and brought her back alive, that too from the clutches of terrorists. We were able to do all these humanitarian work because of our rashtrabhakti," he said. -- PTI
« Back to LIVE
TOP STORIES