Rahul files nomination for Congress chief
December 04, 2017 10:56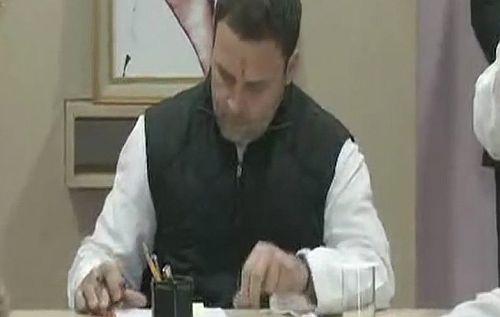 Rahul Gandhi files his nomination papers for the post of Congress president. He will take over from his mother, Sonia Gandhi, who has been holding this post for 19 years.


With him at the Congress HQ are former Delhi CM Sheila Dixit, former PM Dr Manmohan Singh, Sushil Kumar Shinde, Motilal Vohra, V Narayanswamy, Mallikarjuna Kharge, Ahmed Patel, Anand Sharma, Kamal Nath and the younger brigade like Jyotiraditya Scindia.

It is speculated that he will be running unopposed for the post of party President; the speculations can only be confirmed in a bit when the names of contenders are published after scrutiny of nominations.


The elevation comes with a fair share of drama as the Opposition has voiced their lack of confidence in Rahul's ability to hold them together, the way his mother did.


Communist Party of India (Marxist) leader Sitaram Yechury recently said that Gandhi scion cannot replace his mother, Sonia who was "the glue" that held the Opposition together.


The party itself witnessed a much publicized discord recently, when Congress leader Shehzad Poonawalla alleged that the party's presidential elections were rigged.


Nevertheless, various state units of the party have already expressed their support for Rahul's elevation.The process of nomination started on Friday, and today is the last date for filing nominations.


Rahul, who became Congress Vice-President in January 2013, will succeed his mother, who is the longest-serving chief of the party, having been at the helm from 1998.
« Back to LIVE
TOP STORIES