Modi compares Rahul's elevation to Aurangzeb Raj
December 04, 2017 13:39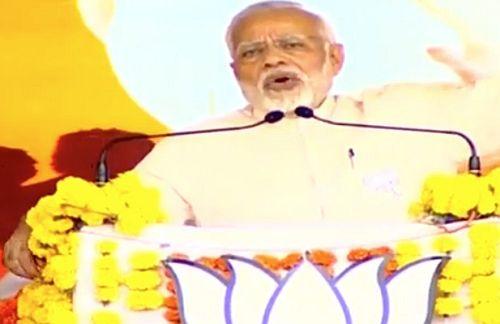 Taking a dig at Congress vice-president Rahul Gandhi's expected elevation to the post of party chief, Prime Minister Narendra Modi on Monday 'congratulated' the Congress on their "Aurangzeb raj'.


Speaking at a rally in Valsad, the PM said senior Congress leader Mani Shankar Aiyar cited the example of Jahangir, Shahjahan and Aurangzeb to convey the power shift in Congress.


"Mani Shankar Aiyar, who never shies away from showing loyalty to one family, proudly said, Jahangir ki jagah jab Shahjahan aaye, kya tab koi chunav hua tha? Jab Shahjahan ki jagah Aurangzeb aaye, tab koi election hua tha? Yeh toh pehlay se hi pata tha ki jo badshah hai, uski aulad ko hi satta milegi (When Shahjahan came after Jahangir or Aurangzeb came after Shahjahan, were there any elections for that? This is already known that the one who is a ruler, his son would get the throne)", PM Modi said.


Modi added, "For us, the well being of the people matters and 125 crore Indians are our high command. Earlier, Congress would go out of the way to show their secularism but now we are all seeing what they are doing in this election, where they are going. Unfortunately for them, Muslims know their real nature.

"Disinformation like BJP does this and that against Muslims has been spread. This family party made it their main agenda to spread disinformation about BJP. But Gujarat people are not so naive, they have now become sensitive and aware to disinformation," he said.

Aiyar scored a self goal when asked about the Congress presidential elections. 'Did elections happen during Mughal rule? After Jehangir, Shahjahan came, was any election held? After Shahjahan it was understood Aurangzeb will be the leader," he said.


« Back to LIVE
TOP STORIES