Sharad Yadav embarrassing himself by revolting against NDA merger: JD-U
August 20, 2017 10:25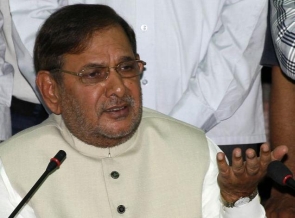 The Janata Dal-United on Sunday reiterated their warning to rebel senior party leader Sharad Yadav saying that he will face action if he attends Rashtriya Janata Dal supremo Lalu Prasad Yadav's rally.
JD-U leader Ajay Alok reiterated, "Our general secretary (KC Tyagi) has clearly stated that if he (Sharad Yadav) attends Lalu's rally, then he should be ready to face serious consequences."
He also came down heavily on Sharad Yadav for his revolt against merging with the NDA, saying he is making "fun of himself" by making such statements.
"Why he never raised an objection when the party was separating from the National Democratic Alliance in 2013. Sharad ji is saying that he was against joining NDA is 2013. He was the general secretary then. So somewhere he is making fun of himself by making such statements," he added.
He further said, "The meeting took place and it was decided that JD-U will become part of NDA. And it is for the PM to decide and his prerogative whether to make JD-U a part of cabinet or not. If he wants that then we will be very happy about it."
JD-U leader KC Tyagi had earlier said that the party has not acted against Yadav for his "anti-party activities" because of his seniority and long association with the party.
"If he attends RJD chief Lalu Prasad's rally here on August 27, he will cross the Lakshman Rekha," he said, and hinted at action against him.
« Back to LIVE
TOP STORIES