Murthy's shadow to loom large over search for Infy CEO, feel experts
August 20, 2017 15:17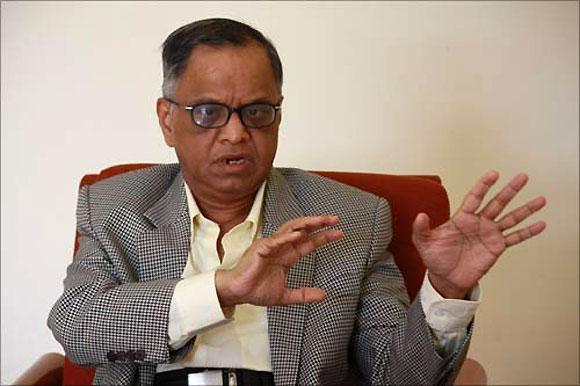 Infosys' search for a new CEO may not be an easy one as the pressure of being under the constant scrutiny of the firm's high-profile founders could see many candidates shying away, said industry leaders and experts.
Vishal Sikka, Infosys' first non-founder CEO, quit on Friday citing slander by founders. The board, which has blamed co-founder N R Narayana Murthy for the CEO's resignation, has said it will find a replacement by March 31, 2018.
The search would include both internal and external candidates.
"Any potential candidate will be concerned about being watched and publicly criticised an idea that cannot be pleasing to anyone on the outside," Institutional Investor Advisory Services said.
The proxy advisory firm added that in this backdrop, internal candidates "that remain faithful to the old guard" would be an easy choice "but risks compromising competence for peace".
Infosys' founders -- Murthy being the most vocal critic among them -- have for the past several months raised issues of alleged corporate governance lapses at the company. There have also been whistle-blower allegations of impropriety in Infosys' 2015 acquisition of Israeli automation-tech firm Panaya for USD 200 million.
Having set up the company along with six others three decades ago, Murthy along with some former executives have publicly questioned high pay packages given to Sikka and the severance package offered to ex-CFO Rajiv Bansal and former General Counsel David Kennedy.
There are some who have also questioned Infosys Board's narrative and raised doubts over its staunch refusal to make public the report of the investigation firms on the alleged whistle-blower complaints.
Speaking to PTI, industry doyen Pramod Bhasin agreed that the search for the CEO could be harder now for Infosys.
"It is also important that the Board and the incoming CEO hear the voice of other major shareholders of the company," he said.
Industry veteran Ganesh Natarajan said Infosys now needs to "speed up" the process of identifying the CEO to demonstrate that it is business as usual, and nothing is on hold.
"They need to send out a message that while Vishal Sikka may be leaving, there exists a strong line up of leaders within the company who can handle the situation and challenges," he added.
Asked if it would be difficult for Infosys to on-board a new CEO given the recent turn of events, Natarajan answered in the negative.
"An experienced or seasoned CEO will know how to tackle the situation. There are enough people in India and abroad who would be willing to take up such a role. There are many turnaround CEOs, who will see it as a challenging assignment," he said.
« Back to LIVE
TOP STORIES