TN CM Palaniswami meets PM Modi, alliance on the cards?
August 11, 2017 11:52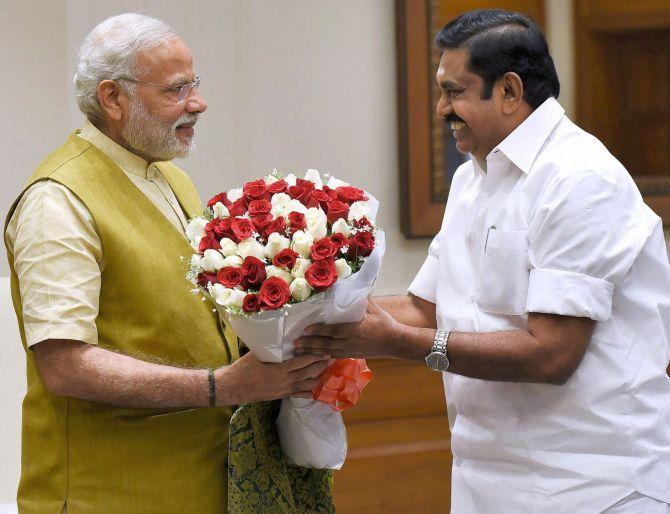 Tamil Nadu Chief Minister E Palaniswami has met Prime Minister Narendra Modi in New Delhi this afternoon.

The two factions of the AIADMK -- E Palaniswami's (Amma faction) and former CM O Panneerselvam's (Puratchi Amma faction) are in New Delhi for the oath-taking ceremony of Venkaiah Naidu as the country's Vice-President.

Both camps of the AIADMK have reportedly been in touch with senior leaders of the BJP ahead of a merger of the both the factions, expected by next week.

Prospects of a merger of the two factions of the AIADMK brightened with the Palaniswami-led Amma camp on Thursday moving against the appointment of V K Sasikala's nephew T T V Dinakaran as deputy general
secretary.

The move by the chief minister's faction was hailed by the rebel camp with its chief O Panneerselvam saying a decision 'reflective' of people's expectations would be taken soon.

A resolution adopted at a meeting of the chief minister's faction said the appointment of Dinakaran was against the party rules and that its cadres have been asked to ignore his directives.

The Panneerselvam faction, which has been demanding ouster of Sasikala, now in jail, and Dinakaran as a pre-condition for merger, termed Thursday's development as an 'awakening'.

Dinakaran, who was in Thanjavur, on his part put up a brave face and asserted he was in control of the party.

An AIADMK Amma meeting chaired by Chief Minister Palaniswami said Dinakaran cannot hold any party post as he was not a member continuously for the past five years.

A resolution adopted at the meeting referred to Dinakaran's expulsion in December 2011 by then party chief Jayalalithaa and subsequent re-admission in February this year by her successor and his aunt V K Sasikala.

File pic.

« Back to LIVE
TOP STORIES