Damning evidence: CCTV footage shows Vikas Barala buying alcohol before chase
August 11, 2017 12:46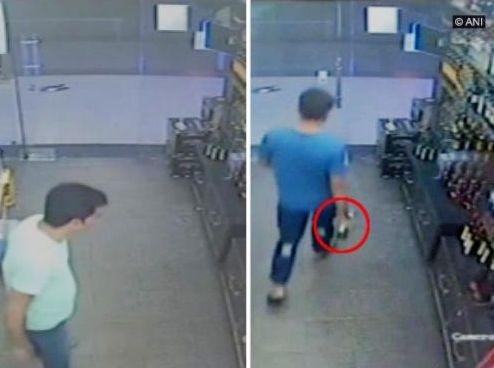 In another damning evidence in the Chandigarh stalking case, a CCTV footage has been recovered of August 4th which clearly shows accused Vikas Barala purchasing alcohol before chasing down Varnika Kunda at midnight.

In the footage, Barala along with his friend Ashish Kumar were seen buying alcohol from a shop located in Chandigarh sector 9, strengthening the victim's claim that they were allegedly intoxicated on the night when the incident took place.

Earlier on Thursday, a Chandigarh court sent Barala and his friend to two-day police custody.

On August 5, Vikas Barala, Haryana Bharatiya Janata Party (BJP) chief Subhash Barala's son, and his friend were arrested on the charges of stalking and harassing an IAS officer's daughter Varnika Kundu in Chandigarh. They were, however, granted bail on the same day.

Following this, a notice was issued to both the accused under 160 Code of Criminal Procedure (CrPC) and the case has been filed under Section 354D (stalking), 341 (wrongful restraint), 34 (common intention) of the Indian Penal Code (IPC) and 185 MV Act (driving by a drunken person or by a person under the influence of drugs).

Director General of Police Chandigarh Tajender Singh Luthra had said that Vikas and his friend Ashish were slapped with charges of abduction.

Vikas and Ashish appeared in Chandigarh Sector 26 Police Station on Wednesday following which they were arrested.

Sharing the horrifying experience in her Facebook post, Varnika Kundu had accused that the duo was allegedly drunk and were driving recklessly behind her.

On August 9, Luthra informed that both the accused in the Chandigarh stalking case had refused to give their blood and urine sample for the investigation, spurring doubts about them being possibly drunk.

"The duty doctor did want to take the blood and urine sample, but the accused are law graduates, they knew the law very well. Therefore, they refused to give the blood and urine sample," DGP Luthra told the reporter.
« Back to LIVE
TOP STORIES