Common men now in high posts, says PM welcoming Venkaiah as RS chairman
August 11, 2017 12:40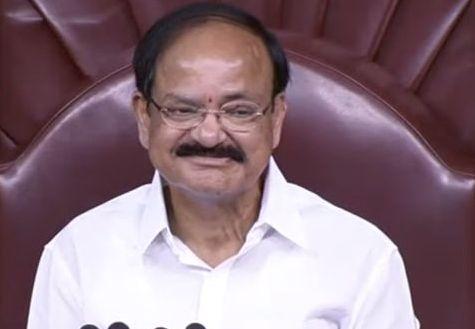 Prime Minister Narendra Modi on Friday welcomed Venkaiah Naidu as the Rajya Sabha Chairman, saying he is the first Vice President who was born in independent India, adding that the former Union Minister knows the workings of the House very well after being active in it for so long.


Naidu takes over the charge from Hamid Ansari whose second term ended on Thursday.


Praising Naidu for his various rural development schemes, Prime Minister Modi said, "Venkaiah Naidu has gifted the nation with Pradhan Mantri Gram Sadak Yojana,


"Venkaiah Naidu is a farmer's son and during his tenure as Poverty Alleviation Minister, he has always upheld the interests of the poor, said PM Modi while speaking in Rajya Sabha.


Modi further stated that the presence of a farmer's son in a highly dignified position is a proof of a "matured democracy" in India.


He concluded his speech with an inspiring couplet, "Amal karo aisa sadan mein, jahan se guzre tumhari nazrein, udhar se tumhe salaam aaye."


Naidu was sworn-in as the 13th Vice President of India today, succeeding Hamid Ansari, in a glittering ceremony.


President Ram Nath Kovind administered him the oath of office and secrecy at Rashtrapati Bhavan here.


Following the ceremonial reception Naidu took over as the speaker of the Rajya Sabha in the Parliament.


Earlier in the day, he visited Rajghat to pay floral tribute to the memorial of Mahatma Gandhi.


National Democratic Alliance (NDA) nominee and former union minister Naidu was elected as the 13th Vice President of India with 516 votes.


Opposition nominee Gopalkrishna Gandhi secured 244 votes out of 760 valid votes.


Born at Chavatapalem in the Nellore district of Andhra Pradesh on July 1, 1949, Naidu is the second Vice-president from Andhra Pradesh.


Before joining active politics, Naidu was much of a social worker. After completing his graduation, Naidu pursued law from Andhra University in Visakhapatnam.


Venkaiah Naidu's entry into politics was marked by his active participation in 'Jai Andhra Movement' of 1972. He was a swayamsevak in the Rashtriya Swayamsevak Sangh (RSS) and Akhil Bharatiya Vidyarthi Parishad (ABVP) in 1973 during his college days.


After the Bharatiya Janata Party (BJP) was formed in 1980, he became Vice president of its youth wing. He was leader of the BJP Legislature Party in Andhra Pradesh, state general secretary and state unit chief.


He won the Andhra Pradesh assembly elections twice in 1978 and 1983 from Udayagiri constituency and was made national president in 2002.


Naidu was elected as a member of the Rajya Sabha from Karnataka in 1998 and was re-elected twice in 2004 and 2010 from Karnataka.

He served as the Minister of Housing and Urban Poverty Alleviation and Information and Broadcasting in Prime Minister Narendra Modi Government before he was nominated for the post of Vice President.
« Back to LIVE
TOP STORIES