Basis of BJP-PDP alliance is status quo on special status for Kashmir: Mehbooba
August 11, 2017 14:58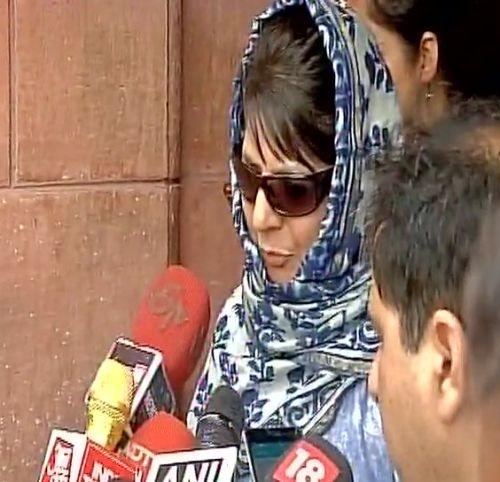 Jammu and Kashmir Chief Minister Mehbooba Mufti met Prime Minister Narendra Modi today amid reports that she was seeking help against attempts to alter Constitutional provisions that give special status to the state. The chief minister, who arrived in New Delhi yesterday, called on the prime minister at his Parliament office, reports PTI.


Speaking to reporters after the meeting with PM Modi, the J&K CM said of the BJP-PDP alliance, "The PM gave 100 per cent assurance on the agenda of alliance. The situation is normalizing but people think our identity can be in danger so our message that J&K is the crown of India, should be reiterated. Idea of India has to accommodate the idea of Jammu & Kashmir.

"The basis of our agenda of alliance is that status quo of 370 has to be maintained and none of us can go against that.

"Discussions on 35A have a negative impact on Jammu & Kashmir, it should not happen."

The meeting comes in the backdrop of the debate on Article 35A of the Constitution that grants special status to the state and is being challenged in the Supreme Court.

The chief minister had met Union Home Minister Rajnath Singh yesterday. Details of the meeting were not made public by either the Centre or the state government. Officials in the home ministry had said yesterday that its law officers would be presenting legal aspects related to Article 35A only and would refrain from joining the case.

Mehbooba is keen to build consensus against scrapping the Constitutional provision, which empowers the Jammu and Kashmir legislature to define the state's "permanent residents" and their special rights and privileges, sources said.

Mehbooba had met opposition National Conference (NC) president Farooq Abdullah this week to seek the support of his party on the issue. Abdullah had told her that she should meet the prime minister, all important central ministers and also the BJP leadership to convince the Sangh Parivar against striking down the constitutional provision.

The state BJP, an alliance partner in the state government, had upped the ante with its spokesperson Virendra Gupta saying yesterday that time had come to bid a farewell to Article 370 and Article 35A of the Constitution as they created a "separatist psyche". The controversy erupted in 2014 after an NGO 'We the Citizens' filed a PIL in the Supreme Court seeking that Article 35A be struck down. Article 35A was added to the Constitution by a presidential order in 1954, it said.

While the state government contested the petition, saying the president had the power to incorporate a new provision in the Constitution by way of an order, the Centre, recently, expressed its reservations.


« Back to LIVE
TOP STORIES