Amid Dokalam standoff, Swaraj meets Bhutanese foreign minister
August 11, 2017 16:34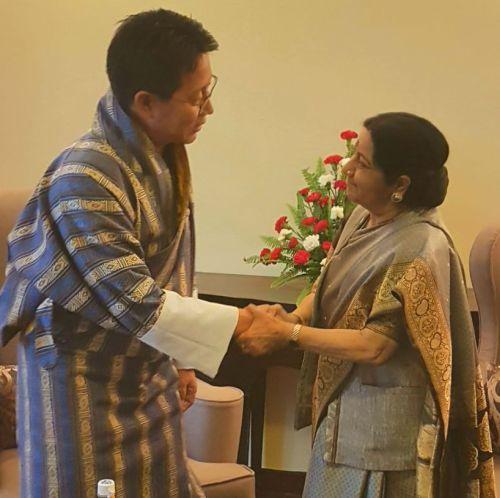 External Affairs Minister Sushma Swaraj on Friday met her Bhutanese counterpart Damcho Dorji in Kathmandu and is understood to have discussed bilateral issues, amidst the standoff between Indian and Chinese troops in the Dokalam area of the Sikkim sector.
Both the leaders are in Kathmandu to attend a meeting of foreign ministers from the countries of the Bay of Bengal Initiative for Multi-Sectoral Technical and Economic Cooperation, a grouping of countries in South Asia and South East Asia.
Bangladesh, India, Myanmar, Sri Lanka, Thailand, Bhutan and Nepal are members of the BIMSTEC.
"Time with a close friend and neighbour. The external affairs minister meets with foreign minister of Bhutan Damcho Dorji on sidelines of BIMSTEC Foreign Ministers' meet," Ministry of External Affairs spokesperson Raveesh Kumar tweeted and also posted a picture of the meeting.
Though there was no official word on as to what was discussed between the two leaders, the meeting comes in the backdrop of the current standoff in Dokalam -- a trijunction between India, China and Bhutan.
India and China have been locked in a face-off in the Doklam area of the Sikkim sector since June 16 after Indian troops stopped the Chinese People's Liberation Army from building a road in the area.
« Back to LIVE
TOP STORIES