Shazia Ilmi files complaint against trolling by 'AAP supporters'
April 18, 2017 21:26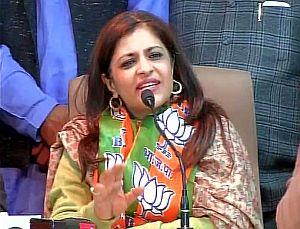 Delhi Bharatiya Janata Party leader Shazia Ilmi today filed a police complaint accusing Aam Aadmi Party supporters of "abusing" and hurling "sexual innuendos" at her on social media.
Ilmi said she was trolled over her video statement on Twitter, where she had attacked the Arvind Kejriwal government over the involvement of sacked AAP minister Sandeep Kumar in a sex tape.
It also came on a day the BJP expelled Savitri Khatri, its Narela ward candidate for the upcoming municipal polls, for allegedly allowing Kumar to campaign for her.
"I left the AAP because of bad elements in it and our party (BJP) did the right thing today. Because of Kumar, Savita Khatri had to pay.
"But, because of Kumar's misadventures, I am now facing abuse on social media. They are posting nasty comments with ration card jokes and sexual innuendos. Some of it is so vulgar, I cannot even describe it in words," she said.
Ilmi, who had switched to the BJP from the AAP, alleged that users of the microblogging site who were "abusing" her were "AAP supporters".
"These people follow big AAP leaders. They must be tracked through their handles and IP addresses. This is not just an insult to me, but an affront to all women. Would they use such filthy language for women in their own homes?" she asked.
Kumar, a former minister in the Kejriwal government, was sacked from the AAP last year over a sex tape purportedly featuring him.
« Back to LIVE
TOP STORIES