Really like Merkel, didn't meant to ignore her, Trump clarifies (again)
April 03, 2017 14:49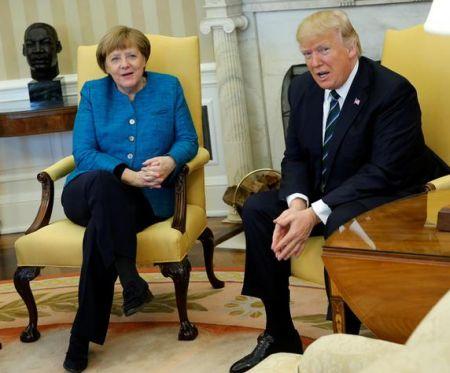 Recalling his infamous photo-op with German Chancellor Angela Merkel, where he was clicked appearing to visibly ignore her, United States President Donald Trump has flatly denied on having ignored her and asserted that he had a great meeting with her.


Trump said that he "really liked her" and didn't mean to ignore Merkel's attempts at shaking hands during a photo op, reports CNN quoting the Financial Times."I shook hands about five times and then we were sitting in two seats ... and I guess a reporter said 'shake her hand.' I didn't hear it," the President said, referring to the videos and pictures that went viral of the two leaders sitting in the Oval Office.


The entire incident garnered massive attention across the globe, as memes were spawned of the the photo-op, in which Merkel could be seen leaning towards Trump, who sat with his hands firmly locked between his knees, a very 'un-Trump' like gesture.


"I had a great meeting with her, I really liked her. She said the same thing to me, we had a great meeting and the press doesn't get it," Trump said.


In a photo op after their Oval Office meeting in March, the two leaders sat next to each other in separate chairs. Merkel then appeared to ask the President if he wanted to shake hands, which is customary in photo ops, but Trump simply did not respond. He barely even looked at his German counterpart while quickly answering a few questions from the press.


When asked to shake hands by reporters and photographers, Trump and Merkel remained stationary. It wasn't clear if the two heard the request, and the two had shaken hands when Merkel arrived at the White House and they shook hands again after a White House news conference.


Trump's tensed up body-language during the photo-op and his refusal to shake hands with Merkel did not gone down well across the globe, as he was chastised for the incidents and many branded his behaviors as rude and "un-President" like.
« Back to LIVE
TOP STORIES