US says Russian jet flew 10ft from plane over Black Sea
September 08, 2016 03:38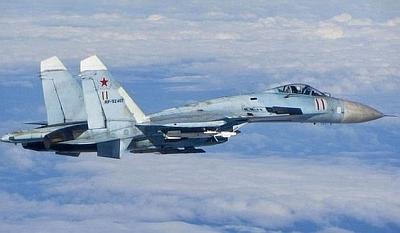 A Russian fighter jet flew dangerously close to a US spy plane over the Black Sea today, the Pentagon said, although Moscow quickly insisted the encounter was within "international rules."
A Russian Su-27 Flanker jet made an unsafe, close-range intercept of a US P-8A Poseidon anti-submarine and intelligence plane conducting "routine operations" in international airspace, Pentagon spokesman Captain Jeff Davis said.
A US defense official, speaking earlier on condition of anonymity, told AFP the Russian plane flew within 30 feet (9 meters) of the P-8A before closing to just 10 feet.
"These actions have the potential to unnecessarily escalate tensions, and could result in a miscalculation or accident," Davis said.
However, Moscow said the intercept was conducted "in strict accordance with international rules" because the Americans were trying to snoop on Russian army exercises.
The Russian defense ministry said in a statement that it dispatched Su-27 jets to check out US P-8 Poseidon planes as they "twice tried to get close to the Russian border over the Black Sea without their transponders turned on."
« Back to LIVE
TOP STORIES