Modi meets Chinese Premier Li on sidelines of East Asia Summit
September 08, 2016 12:44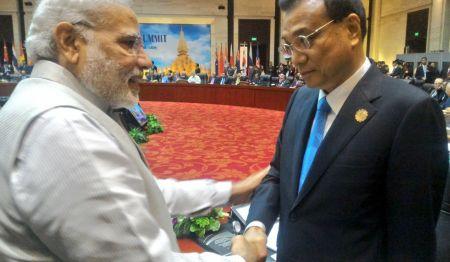 Prime Minister Narendra Modi today had a "pull aside" meeting with Chinese Premier Li Keqiang on the sidelines of the East Asia Summit, days after he held talks with President Xi Jinping in Hangzhou.
"Moving forward with China. PM Narendra Modi has quick pull aside with Chinese Premier Li Keqiang on sidelines of EAS," External Affairs Ministry Vikas Swarup tweeted.
Modi's meeting with Li came just four days after he met Xi on the sidelines of the G20 summit in Hangzhou.
In that meeting, Modi had told Xi that the two countries need to be "sensitive" to each other's strategic interests.
Asserting that fight against terror should not be motivated by "political considerations", Modi had said it is of "paramount importance that we respect each other's aspirations, concerns and strategic interests" to ensure durable bilateral ties.
« Back to LIVE
TOP STORIES