Kejriwal jostled by protesters at station, security breach says AAP
September 08, 2016 09:00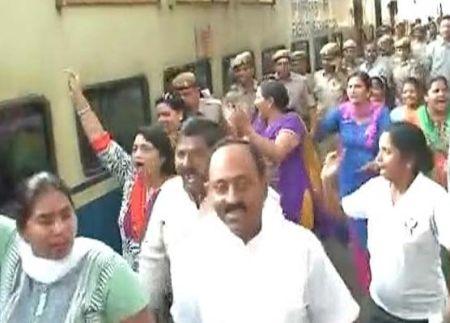 Arvind Kejrwal was jostled by a crowd of protesters this morning at the railway station in Delhi, from where he took a train to Punjab for a five-day visit.
As the CM boarded a Shatabdi train to Ludhiana, women activists shouted slogans and protested against sacked AAP minister Sandeep Kumar, who has been accused of rape by a woman who featured in a sex tape with him.
Images showed Kejriwal surrounded by policemen and supporters amid protests at a platform. AAP has alleged a security breach and accused the Delhi Police of failing to protect the CM.
Reports have quoted the Delhi police as saying it will not be able to provide security to Kejriwal during his Punjab tour, as it does not have jurisdiction there.
"We have not refused him security. He is leaving Delhi for Punjab for five days. As per the security norms, if he travels by train or car, we are supposed to drop him at the first destination in that state and thereafter, the state police takes over," a senior Delhi Police official was quoted as saying.
"He was given security during previous trips as we had no time to write to the state police concerned and also because they were short visits. This is a long visit and we cannot keep any component with him for that long," the officer said.
« Back to LIVE
TOP STORIES