Ashutosh brings up 'Snoopgate', attacks PM in response to women's panel
September 08, 2016 14:42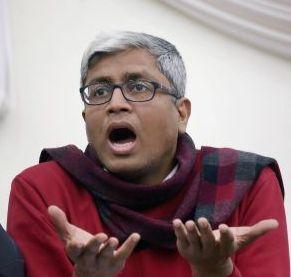 Asked to justify his column in which he discusses a colleague accused of a sex scandal, Ashutosh, senior leader of the Aam Aadmi Party, obeyed an order this morning to meet with Lalitha Kumaramangalam, the chief of the National Commission for Women.
He said he told the country's top women's rights body that it is encroaching upon his right to free speech. "I said that if you want to hang me for what I have written, fine. But the constitution guarantees my right to freedom of speech," Ashutosh, a former editor, said.
In a two-page reply to the commission, which he has tweeted, Ashutosh has also asked the commission to look into what is called "Snoopgate," pivoted around allegations that a young woman was spied upon by top police officers when Prime Minister Narendra Modi was chief minister of Gujarat and BJP president Amit Shah was home minister.
The AAP leader has detailed what he called allegations made in the case against PM Modi and Shah and asked the women's panel to "summon them to the NCW office for an explanation and further investigation just as you have sent a notice to me for writing a column".
« Back to LIVE
TOP STORIES