Opposition criticises everything Modi does: Shah
November 26, 2016 20:04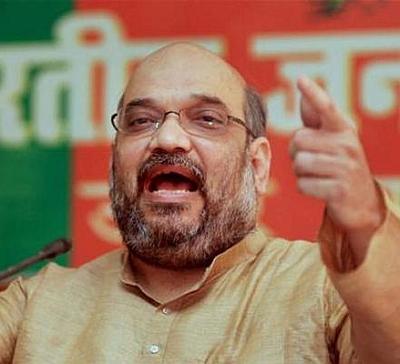 Bharatiya Janata Party president Amit Shah today lashed out at the Opposition, saying it was seeking to oppose everything that the Narendra Modi government did only because it did not have any issues to raise.

"If Modi says today is Monday, they will say no no its Tuesday," Shah mocked while addressing a mammoth Kisan Rally organised by the Andhra Pradesh BJP in Tadepalligudem this evening.

"The world praised the surgical strikes the Narendra Modi government conducted on Pakistan but Congress criticised it. The country is happy, the jawans are happy and even kids are happy but Rahul (Gandhi) cried khoon ki dalali," he said.

"It's not Sonia-Manmohan government (at the helm) now that remains indecisive. Its the Modi government that daringly conducted surgical strikes and inflicted a heavy blow to the enemy and the terror camps on its territory," the BJP chief said, recalling the aftermath of the Uri attack.

Shah was also critical of the false propaganda allegedly being carried out by the Opposition over the demonetisation issue.

"They are spreading rumours that demonetisation will hurt the farmers. But let me assure you, it will only benefit the farmers by all means," he claimed.

Asserting that the welfare of farmers and development of the agriculture sector were the top priorities of the Modi government, Shah said every step was being taken to ensure the same.

« Back to LIVE
TOP STORIES