Note ban was recommended by RBI: Prasad
November 26, 2016 21:29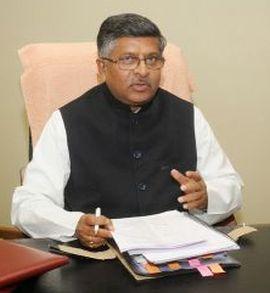 Law and IT Minister Ravi Shankar Prasad today said the decision to scrap Rs 500/1000 notes was taken by the government on the recommendation of the Reserve Bank of India.

"It is not demonetisation. It is a wrong expression. Our government has only taken decision upon recommendation of Reserve bank of India who is authority to take decisions that notes of Rs 500 and Rs 1000 will not be a legal tender. It is not demonetisation in classical economic sense," he said.

He said that countrys economy has 12-13 per cent cash component out of which Rs 500 and Rs 1,000 account for 86 per cent.

"Now this country is moving towards honesty and transparency let it move in that direction. Now it is our duty to bring India out of corruption taint," Prasad said.

The minister further said due to economic reforms government has saved Rs 36,000 crore by digitalising economic activities such as payment of subsidies and MGNREGA wages through direct cash benefit facilities on to the accounts of intended beneficiaries through Aadhaar.

« Back to LIVE
TOP STORIES