Rahul off-the-record to media: Not Ram bhakt, but of Shiv, Nanak, Buddha
March 28, 2016 13:08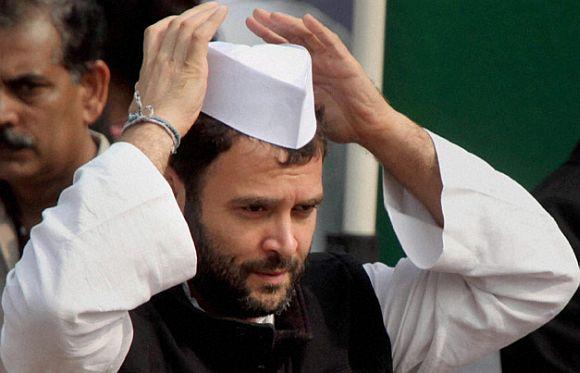 Congress Vice President Rahul Gandhi has revealed that he does not believe in Lord Ram but has faith in Lord Shiv, Guru Nanak and Gautama the Buddha.

Gandhi stated this last week when he met 23 senior 'input editors' from TV channels for over an hour. At the meeting, he appeared very confident and his body language was relaxed.

Gandhi told the editors that he was ready to become party president whenever the decision is taken. But he doesn't believe in designations and hierarchies which can deter him from doing what he believes
is good for the party.

About his belief in Lord Shiv, Guru Nanak and Buddha, Rahul said it was because they were more practical.

Rahul Gandhi also called the 2014 election verdict, in which the Congress plunged to its lowest ever tally of 44 seats, was the best gift he has got because a lot of undesirable things got washed away.

On Narendra Modi

Rahul said Modi was a one-man show and that the people in his government were feeling
powerless to do things.

On Prashant Kishor Pandey

Commenting on election whizkid Prashant Kishors appointment by the Congress party, Rahul stated that he has a specific task, and nothing beyond that. He told the journalists, We know the issues we must raise, but Prashant is good at
packaging and marketing those issues.

On UP assembly polls

About the Uttar Pradesh assembly elections due in 2017, Rahul said the Congress cannot go with the Samajwadi Party. However, the
Bahujan Samaj Party may not give us the number of seats we want. If it agrees to give us what we want, like the Left in West Bengal, then we will work together.

On the JNU row

Rahul told the editors that many of his party colleagues, including
Randeep Surjewala, advised him not to go to JNU following the students arrest but nevertheless he decided to go there. Interestingly,
Surjewala sat in on the meeting with the input editors throughout and smiled when Rahul
mentioned this.

On Tamil Nadu

Rahul seemed surprised at Vijayakanths alliance with the People's Welfare Front.

Rahul Gandhi was confident till the last minute that the Dravida Munnetra Kazhagam will get Vijayakanth on
board and that was why the AICC let Ghulam Nabi Azad go in for a deal
with Karunanidhi.

Sources in AICC now feel the sudden shift by Vijayakanth to the PWF came as a jolt to the DMK-led front.

Though AICC expects Karunanidhi to allot 65 to 80 seats for the Congress, it wants the Tamil Nadu unit to consider nothing less than 65 seats.

Why is Rahul holding off the record meetings with media?

Is he not confident about exposing his views and thinking process before
the 2019 elections? No one is ready to answer these questions.

Usually these interactions take place at the 12 Tughlak Road, Rahuls official bungalow. He spends two to three hours with the media in a relaxed manner, and selects some 10-15 topics on which he takes questions.

Surjewala, the AICC media cell incharge, sits in on these meetings while a few MBA students from foreign universities take notes by rotation.

The media is attracted by the free-flowing conversation which comes with the caveat: purely not for publication, which line Rahul keeps repeating during the course of his interactions.

So what is the purpose of Rahul meeting media-persons?

Since the 2014 Lok Sabha defeat Rahul Gandhi has been meeting media-persons for off-the-record conversations. So far there have been around 25 interactions at various levels, as in with editors, chiefs of bureaus, political editors, cartoonists, editorial writers, special correspondents, etc. In all, say sources, he would have met around 600 to 700 media-persons.

Through this exercise Rahul is said to have collected 50-60 major political issues.

Some media observers who have had a second round of meeting with Rahul Gandhi do not agree that he has graduated into a tall political leader. He repeats everything but does not have a focus, is what they feel.

So, will Rahul lead the 2019 campaign against Narendra Modi? Will he become a formidable force by then?

Certainly. according to a few top Congress leaders who confirm that Rahul has picked up issues. But in the next two or three years, if he concentrates on the Congress organisation, there will support for him from the ground level as the party does not currently have an organisation in 20-25 states. And where it does, it is ridden with groupism.

« Back to LIVE
TOP STORIES