India-born Muslim cop security in-charge of Hindu temple in US
July 24, 2016 11:26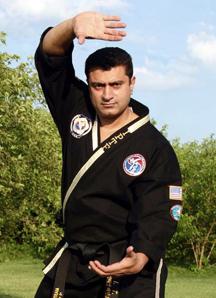 A Mumbai-born Muslim police officer is the security in-charge of the largest Hindu temple in the Indianapolis city of US, setting an example of inter-faith cooperation and social harmony at a time when religious intolerance rhetoric is on the rise due to the election cycle.
An eight-degree black-belt in Taekwondo and a kick boxing champion, Lt Javed Khan from the local police department is director of security at the Hindu temple in Indianapolis.
For hundreds of visitors thronging the temple daily, in particularly over the weekend, Khan, who was born in Mumbai and raised in Lonavla, Pune, is now considered a part and parcel of the Hindu temple.
"My message is this; we are all one. We are all the children of God. There is only one God and then there are different forms and names, we choose to worship," Khan told PTI in a phone interview from Indianapolis.
"We are Indians. Half my family is Hindu. I do not believe in Hindu-Muslim thing," he said.
"I am just doing my duty. I am not doing anything special or extraordinary," Khan said when asked for an interview.
Khan settled in Indiana in 2001, a year after he migrated to the United States. He had been coming to the US since 1986 for participating in various martial arts championship.
Khan said it all started a few years ago, when he married his daughter to a Telugu boy at this Hindu temple, after which he started knowing people at the temple.
« Back to LIVE
TOP STORIES