'Hooligans' behind Una Dalit attack 'shot the video for fun': Gujarat chief secy
July 22, 2016 09:45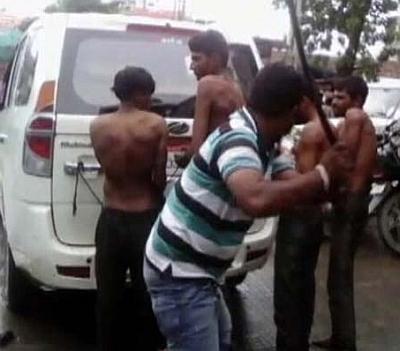 Gujarat's Chief Secretary G R Aloria has said that the accused who had assaulted Dalit men in Una on July 11 in the name of cow protection had video recorded the incident for fun and uploaded it as a show of bravado.
The Indian Express reported that Aloria also admitted there is hooliganism going on in the name of self-proclaimed gau raksha samitis.
"The accused were so brazen that they shot the video for fun and uploaded it as a show of bravado. They were making an example of it. The car of the accused had a board of the Shiv Sena and the accused had a visiting card that suggested they belonged to the Gau Raksha Samiti, Rajkot," Aloria told the newspaper.
"The police are still investigating it. The victims have made a few allegations against the local sarpanch of Mota Samadhiyala. The victims are saying that the sarpanch was objecting to construction activity by the family on land allotted for a common water well, that he called these hooligans to the village under the excuse of gau raksha to beat them up. We are checking this allegation," he added.
« Back to LIVE
TOP STORIES