UK PM Cameron to chair his last Cabinet meeting today
July 12, 2016 08:28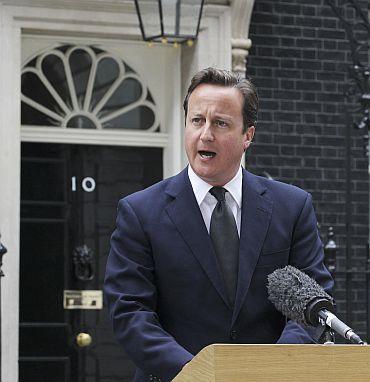 British Premier David Cameron will chair his last Cabinet meeting today and attend House of Commons for his last prime minister's questions on Wednesday before heading to Buckingham Palace to offer his official resignation to Queen Elizabeth II.
"We will have a new Prime Minister in that building behind me by Wednesday evening," Cameron told reporters outside 10 Downing Street.
"I am delighted Theresa May will be Prime Minister. She has the overwhelming support of the Conservative parliamentary party...she is strong, she is competent, she is more than able to provide the leadership that our country is going to need in the years ahead," said Cameron, who had announced he would be stepping down for a new prime minister to take the Brexit negotiations forward with the European Union a day after the June 23 vote in favour of Britain leaving the economic bloc.
59-year-old May, who would become Britain's second female Prime Minister after Margaret Thatcher, made a statement outside the Houses of Parliament here soon after saying she is "honoured and humbled" to be chosen as leader of the Tory.
« Back to LIVE
TOP STORIES