Some elements hell-bent on fomenting trouble in Kashmir: Mehbooba
July 12, 2016 00:19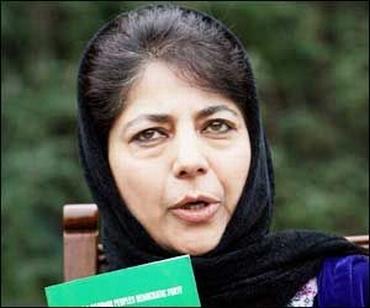 Jammu and Kashmir Chief Minister Mehbooba Mufti on Tuesday said some elements are hell-bent on fomenting trouble and mayhem in Kashmir for their vested interests playing with the lives of innocent youth by instigating them to indulge in violence "resulting in a vicious cycle of frenzy and bloodshed".
She sought the wholehearted cooperation of the people in restoration of peace and normalcy in the valley to prevent further loss of precious lives and destruction of public and private properties.
Without identifying anyone, the Chief Minister, who was interacting with civil society members, said while certain quarters are only interested in playing politics over the dead bodies of youth, it is the family members of these slain youth who have to live with this pain forever.
"It is only the parents and other immediate family- members of these ill-fated youth who have to live with the life-long trauma of losing their near and dear ones to this senseless violence," she said.
There are hundreds of such families in Kashmir today who have lost their near and dear ones to the violence, one way or the other, and have been left at the mercy of the God, she said.
Most of these families are living in such miserable conditions that they have to even struggle for day-to-day living, she said.
« Back to LIVE
TOP STORIES