I am law and order candidate: Trump
July 12, 2016 05:25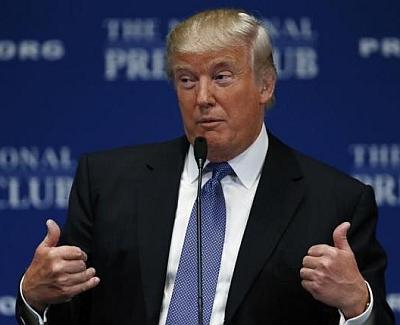 Describing himself as the law and order candidate, Presumptive Republican presidential nominee Donald Trump on Monday said that if elected he would protect everyone and treat them justly without prejudice.
"Not only am I the law and order candidate, but I am also the candidate of compassion, believe it. The candidate of compassion. But you can't have true compassion without providing safety for the citizens of our country," Trump told his supporters at an event in Virginia.
"Every kid in America should be able to securely walk the streets in their own neighbourhood without harm. Everyone will be protected equally and treated justly without prejudice. We will be tough. We will be smart. We will be fair and we will protect all Americans," he said amidst big applause from the audience.
"Without safety, we have nothing. It is the job of the next president to make America safe again for everyone," he said in his first public event after last week's shooting incidents in Dallas that killed five policemen and the killing of two other African Americans in different parts of the country at the hands of police.
"The attack on our Dallas police is an attack on our country. Our whole nation is in mourning, and will be for a very long time. Yet we have also seen increasing threats against our police and a substantial rise in the number of
officers killed in the line of duty -- very big rise," he said.
Observing that America's police and law enforcement personnel are what separates civilisation from total chaos and the destruction of the country, Trump said its time to "immediately end" the hostility against police and against all members of law enforcement.
« Back to LIVE
TOP STORIES