Rahul responds to PM in Goa, says Modi is 'Feku'
December 16, 2016 18:56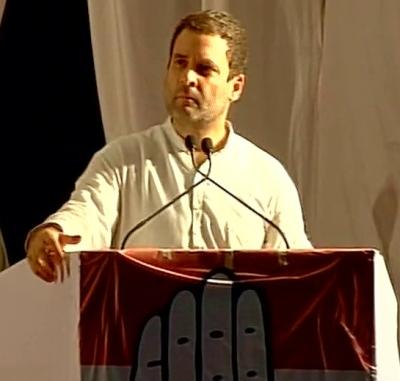 Congress Vice-President Rahul Gandhi, addressing a rally in Goa, says:
* "Congress wants to eradicate corruption from country; If NDA govt wants to take a step against it, party will give its 100% support."
* "In the last two-and-a-half years, 1 percent rich people have acquired 60 percent of country's money.
* "All cash is not black money & all black money is not cash. Demonetisation has targeted poor, the cash economy of our country."
* "Why didn't Modi arrest people holding black money. Why didn't he bring back Mallya and Lallit Modi"
* "PM Modi's surgical strike on corruption & black money is just a marketing scheme."
* Demonetisation drama isn't a fight against corruption, black money; it's an attack on India's 99% honest people, cash economy, weak people
* Swiss bank has given the complete list of Indians having account their. Why didn't PM release the list? PM Modi is 'Feku'.
* "1% super-rich ppl usurped Rs 8 lakh crore frm India's banks; When they didn't return money,you (Centre) called it non-performing asset."
* "In the last 2.5 years, PM Modi waived off Rs 1,10,000 crore of these people; after demonetisation, he waived off Vijay Mallya's Rs 1200 crore."
« Back to LIVE
TOP STORIES