'My days as a prisoner of war in Pakistan'
December 16, 2016 10:05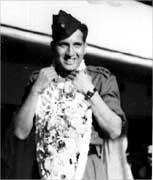 December 5, 1971.
Six Gorkha soldiers and I were on a reconnaissance patrol on the western border in Punjab, along the Ravi river, when the Pakistani army launched a sudden attack through that area. We were literally caught between a rock and a hard place as we were initially shelled by Pakistani guns, and later, as they overran the small border pocket, by Indian artillery. Thankfully, neither side hit us, and less than 48 hours later, the active war ended for me and my six men.
My ordeal, however, had just begun.
They say memories of stress and extreme danger remain with us forever. The memories of that time are as fresh in my mind as if it all took place yesterday.
Colonel Anil A Athale (retd) relives his time as a PoW in Pakistan during the 1971 War.
Do read
Pic: Then Captain Anil A Athale on his return to India
« Back to LIVE
TOP STORIES