Mumbai reels after train derails; buses overcrowded, cabs overcharge
September 15, 2015 15:50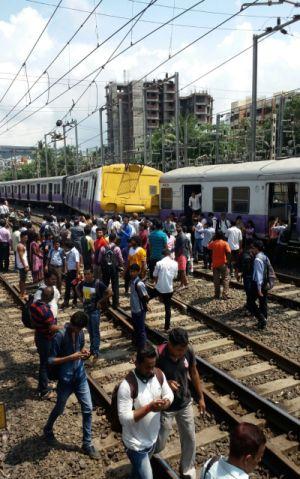 If it isn't rains, it's trains.

Mumbaikars using the suburban train network on the western railway were left stranded after a seven coaches of a local train today derailed between Andheri and Vile Parle stations, disrupting traffic on the busy route linking Churchgate in South Mumbai to Virar. The incident occurred at 11 am. No casualty has been reported.

All trains on the western railway on the slow track were affected, with a few services working on the fast track. Early reports say the Virar fast line will be restored by 6 pm today.

The effects of the train derailment spilled over on to the roads with BEST buses overcrowded, and autos and cabs overcharging customers.

The following long-distance trains were also affected:
2955 Mumbai Central-Jaipur Express will depart at 21.00 Hrs instead of its schedule departure at 18.50 Hrs.

12961 Mumbai Central Indore Avantika Express will depart at 21.15 Hrs instead of its schedule departure at 19.05 Hrs.

19005 Mumbai Central Okha Saurastra Mail will depart at 21.30 Hrs instead of its schedule departure at 20.25 Hrs.

12959 Dadar-Bhuj Express will depart from Borivali at 00.38 Hrs.

The harbour line was also affected after another train derailed while entering the platform at Chhattrapati Shivaji Terminus (CST), causing inconvenience to commuters during the peak hours.


Suburban harbour line services, both up and down, were yesterday suspended between CST and Wadala Road Station owing to the mishap.

Pic credit: Anil Phansekar.

« Back to LIVE
TOP STORIES