Egypt sentences 8 Muslim Brotherhood supporters to death
September 15, 2015 19:22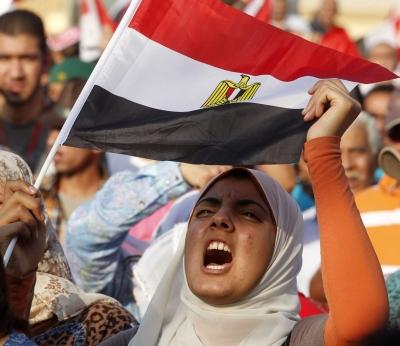 An Egyptian court today sentenced eight supporters of the banned Muslim Brotherhood to death while 80 others were sentenced in absentia to life in prison for indulging in violence and attacking a police station in Upper Egypt in 2013, resulting in the death of two poilcemen.
The supporters were convicted of attacking a police station in Samalout, a city in Menya governorate.
Fourteen defendants were jailed for 15 years while eight defendants received a 10 year sentence besides six others who were sentenced to five years in prison.
Five other defendants were acquitted in the same case.
The defendants were also accused of killing two policemen and injuring a number of people including police and civilians.
Since Islamist ex-president Mohamed Morsi's ouster in 2013, the Egyptian government has been cracking down on the Muslim Brotherhood and its supporters.
Morsi and the Muslim Brotherhood supreme guide Mohamed Badie and 100 other leaders were sentenced to death in June for escaping from prison in 2011.
The two leaders were also sentenced to life in prison in the espionage case.
« Back to LIVE
TOP STORIES