Derailment turns Mumbai's local train lifeline into horror story
September 15, 2015 18:11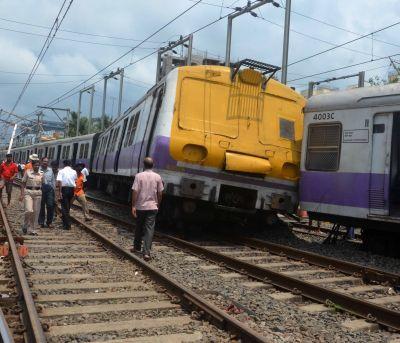 When Mr Anthony D'Costa, a senior journalist with the Times of India, left his home in Vasai this afternoon and reached the railway station, he had little inkling of the horror that awaited him, and lakhs of other commuters like him who travel to South Mumbai every day on work.

The train derailment at Andheri in the morning had crippled the railway network on the Western Railway local line, and the station presented a picture of utter chaos.

It was 3 pm by the time the noon Virar-Churchgate local pulled in, and D'Costa boarded it. The train crawled its way to the next major station on the line, Borivli, where it was abruptly terminated. D'Costa managed to board another local train, which too snailed its way towards Andheri station, where it was halted for a long time.

When we spoke to D'Costa, his train had just pulled out of Andheri station. "We are passing the derailed train, and there are lots of people working on it. But tell me, the derailment happened in the morning, and it takes so long to clear it? Is this a sign of the government that works?" he was understandably furious as someone who has spent hours getting to work.

Although the railways seems to claim that services were being restored or are near-normal, that is not a story Mumbai's harassed commuters are willing to buy.

Pic: Sahil Salvi.

« Back to LIVE
TOP STORIES