Bangladesh PM Hasina wins UN award for leadership on climate change
September 15, 2015 08:50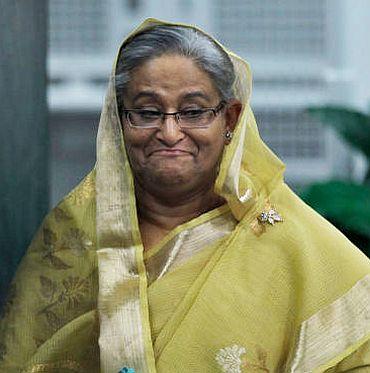 Bangladesh Prime Minister Sheikh Hasina has been announced as one of the winners of the United Nations Champions of the Earth award in recognition of her country's initiatives to address climate change.

"Serving as the prime minister of Bangladesh, one of the world's least-developed countries Sheikh Hasina has proven that investing in climate change is conducive to achieving social and economic development," said the announcement issued by the UN Environment Programme, which confers the awards.

UNEP noted that Bangladesh is one of the world's most populated countries, with over 159 million people. It is also one of the most vulnerable to the impacts of climate change. Cyclones, floods and droughts have long been part of the country's history, but they have intensified in recent years.

"Through a number of forward-looking policy initiatives and investments, Bangladesh has placed confronting the challenge of climate change at the core of its development," UNEP Executive Director Achim Steiner said. "These initiatives, from climate change adaptation measures to ecosystem preservation legislation, mean that current and future generations of Bangladeshis are better prepared to address climate change risks and reverse the impacts of environmental degradation," he said.

He added that Hasina has demonstrated "leadership and vision" in both making climate change an issue of national priority and advocating for an ambitious global response.
« Back to LIVE
TOP STORIES